Vietnam undertakes 23rd ACAMM chairmanship
Friday, 15:53, 12/11/2021
VOV.VN - Myanmar Vice-Senior General Soe Win handed over the 23rd ACAMM Chairmanship to Vietnam on November 12 during the virtual 22nd ASEAN Chief of Army Multilateral Meeting (ACAMM-22).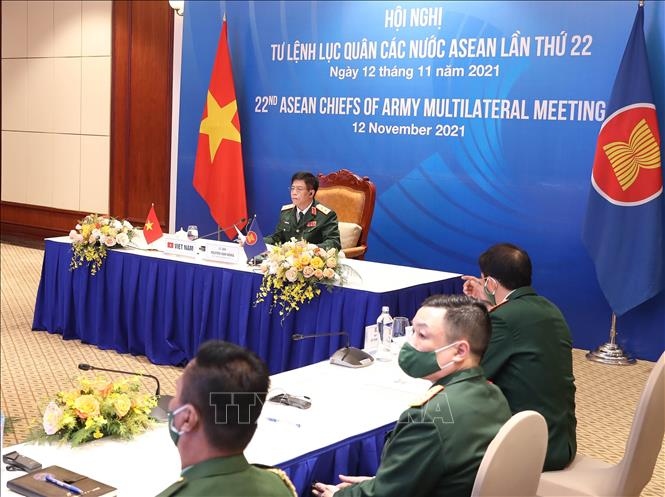 A Vietnamese delegation led by Lieutenant General Nguyen Van Nghia, deputy chief of the General Staff of the Vietnam People's Army, attended the event alongside several army commanders representing various ASEAN member states.
As part of his opening speech, Vice-Senior Win emphasised that the COVID-19 pandemic has adversely impacted all aspects of political, economic, and social life globally.
The entire world, including ASEAN members, has therefore been forced to roll out a range of measures aimed at responding to the impact of the pandemic. He went on to express his hope that at ACAMM-22, the army forces of ASEAN member states will share their experience in an effort to cope with the pandemic, as well as considering the post-pandemic recovery process.
During the course of the conference, the heads of delegations of participating countries exchanged views on the role of ASEAN militaries as part of the recovery process as the bloc moves past the virus.
The head of the Vietnamese delegation also highlighted the importance of ASEAN military-defence co-operation as regional challenges continue to result in complicated developments due to the impact of the pandemic.
With regard to the role of the army in responding to COVID-19, the head of the Vietnamese delegation affirmed that currently, the army represents the core force that is taking the lead in the joint efforts for pandemic prevention and control, especially following the impact of the fourth outbreak wave on the country.
Sharing the results and experience of pandemic prevention and control measures in severely-impacted localities in recent times, Lieutenant General Nguyen Van Nghia also emphasised the need to adapt to the new situation locally. In addition, it remains necessary to simultaneously carry out the dual goal of ensuring COVID-19 prevention and control alongside socio-economic development, in line with the common perception of leaders at both the 38th and 39th ASEAN Summits.
Liet. Gen. Nghia also expressed his confidence that ASEAN military-defence co-operation would contribute to pushing back the pandemic and effectively responding to non-traditional security challenges, thereby maintaining peace, stability, and development throughout the region.
At the end of the conference, Vice-Senior Win handed over the 23rd ACAMM Chairmanship to Vietnam and related activities such as the ASEAN Armies Rifle Meet (AARM), the ASEAN Sergeant Major Annual Meeting 2022.
Liet. Gen. Nghia reaffirmed the role and importance of the bloc's military-defence co-operation as well as unity within the ACAMM framework.
He called on countries to support Vietnam in performing well its role of ACAMM/AARM/ASMAM Chair in 2022.
He also expressed his wish that based on developments regarding the current situation, the nation would be able to welcome ASEAN members participating in activities to be launched within the ACAMM framework ahead in 2022.