Vietnam set to take stronger emission reduction measures, PM Chinh says
Tuesday, 07:29, 02/11/2021
VOV.VN - The nation will take stronger measures to achieve net-zero emissions by 2050, Prime Minister Pham Minh said, while calling on countries to make strong commitments to reduce greenhouse emissions on the basis of common responsibility in line with their conditions and capacity.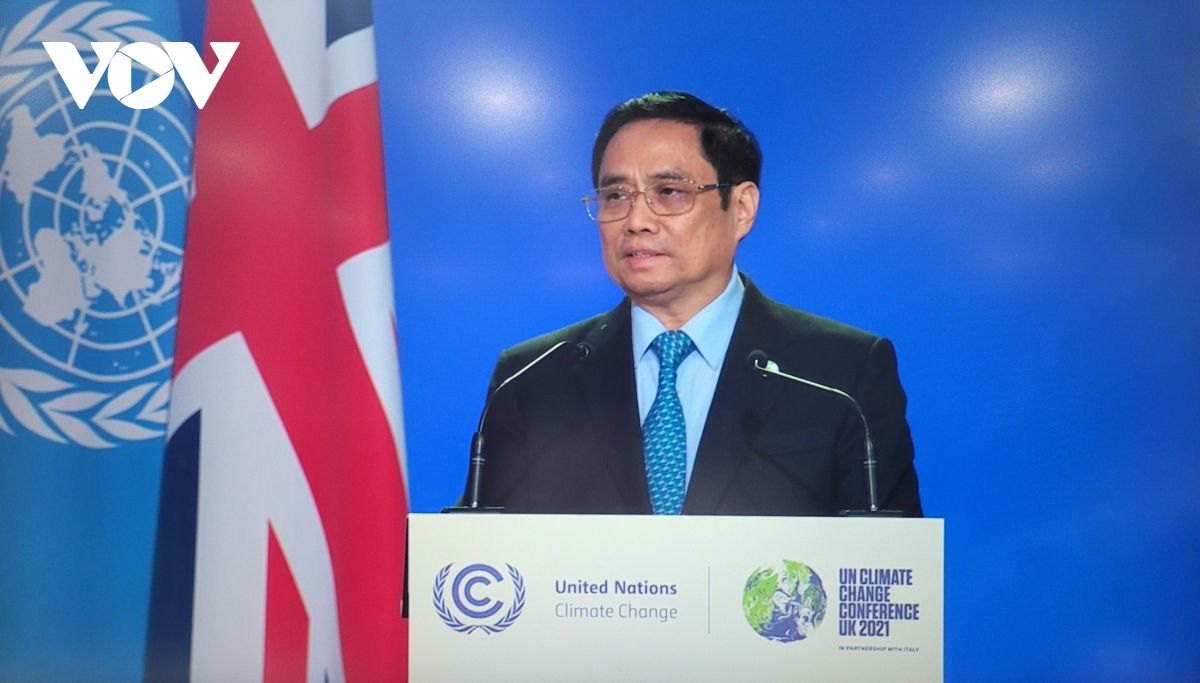 The Vietnamese Government chief made the call in his keynote speech at the first working day of the Climate Summit within the framework of the 26th United Nations Climate Change Conference of the Parties (COP26) in Glasgow, Scotland (the UK) on November 1 (local time).

The negative impacts of climate change are seriously affecting food and water source security, and sustainable development, and even threatening the survival of many countries and communities globally, he said, adding that there should be fairness and justice in climate change issues.
Response to climate change and natural recovery must become the top priority in every development policy, the highest ethical standard of every sector, business and person.
Science and technology must take the lead while financial resources must be used as a leverage to promote the transformation of development models toward a green, circular, sustainable, inclusive and humane economy, Chinh said.
According to the PM, every action must be based on nature and put people at the centre and consider people as the subject and driving force for sustainable development so that no one is left behind.
Despite being a developing nation that has just carried out its industrialisation over the past three decades, Vietnam, with advantages in renewable energy, will build and take strong measures to reduce greenhouse gas emissions by using its own resources coupled with the cooperation and support of the international community, especially from developed countries, in terms of finance and technology transfer. Such measures include the implementation of mechanisms under the Paris Agreement to achieve net-zero emissions by 2050, the Vietnamese Government leader said.

Vietnam is redoubling efforts to respond to climate change, develop its economy, ensure a better life for all people, and make responsible contributions to the international community.

It desires to step up cooperation with the international community in sustainable investment and development programmes and projects in the time ahead, he added.
PM Chinh's speech earned plaudits from international friends and partners who affirmed their willingness to cooperate with Vietnam in carrying out measures to promote green growth, circular economy, and support communities, especially vulnerable groups, in a joint effort to increase resilience and adaptability to unusual and extreme weather phenomena caused by climate change.