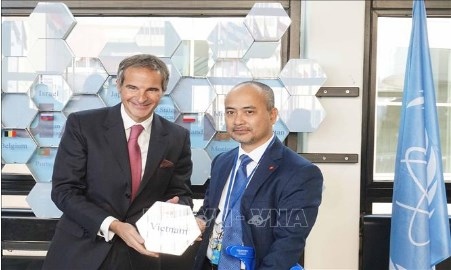 This comes after a ceremony was held on November 25 at the headquarters in Vienna to receive financial contributions for the second phase of Project ReNuAL 2 took in Seibersdorf, in addition to a meeting of the IAEA.
As part of the occasion, Grossi gave diplomats and permanent representatives of member countries, including Portugal, Kazakhstan, Kenya, Malta, Montenegro, Ireland, and Vietnam a brick symbolising the contribution of each member to the ReNuAL 2 Project.
In a recent media interview given after receiving the gift, Ambassador Pham Trung Kien, permanent representative of Vietnam to the International Atomic Energy Agency (IAEA), said that the nuclear technology research and application complex in Seibersdorf is one of the IAEA's leading centres. Indeed, the site focuses on nuclear technology development in various fields such as environmental protection, sustainable agriculture, and pandemic prevention and control.
During the process of responding to the COVID-19 pandemic, Seibersdorf transferred equipment, biological products, and offered training to countries, including Vietnam, to help them conduct RT-PCR tests in order to have an accurate diagnosis and detection of the SARS-CoV-2 virus.
The Ambassador emphasised that the contribution to the ReNuAL 2 Project demonstrates Vietnamese responsibility for promoting the development of nuclear technology for peaceful purposes. It also simultaneously affirms the important role of the IAEA and other research facilities of this organisation in terms of the application of atomic technology for sustainable development.
Liu Hua, deputy director general of the IAEA, applauded Vietnamese contribution to the IAEA's technical co-operation programmes as a way of raising the country's position, as demonstrated by the nation's election to the IAEA Board of Governors.
At a regional level, the country has actively participated in the Regional Cooperative Agreement for Research, Development and Training Related to Nuclear Science and Technology for Asia and the Pacific (RCA).
RCA represents a formal inter-governmental agreement that serves as a framework for Asian member states to intensify their collaborations through programmes and projects. Indeed, there is a primary focus on the specific shared needs of its members and strives to promote and co-ordinate co-operative research, development, and training projects in nuclear science and technology.
The deputy director general of the IAEA duly expressed his wish that Vietnam would assume the role of RAC President in 2022 during the occasion of the 50th anniversary of the establishment of the RAC, along with affirming that the IAEA would support the nation in successfully fulfilling this role.
The ReNuAL 2 project was announced by the IAEA in September, 2020, with the goal of continuing to renovate and expand the Seibersdorf Complex in order to better meet the needs of applying nuclear technology as a way of solving global problems.
In September, Vietnam pledged to make a financial contribution to the project that it financially contributed to phase 1 of in 2019.