Vietnam outlines roadmap for defence co-operation activities with New Zealand
Wednesday, 17:07, 09/03/2022
VOV.VN - The Vietnamese Government has set out a roadmap for gradual adaptation as the country moves into the new normal, thereby creating more favourable conditions for Vietnamese defence co-operation with other countries, including New Zealand.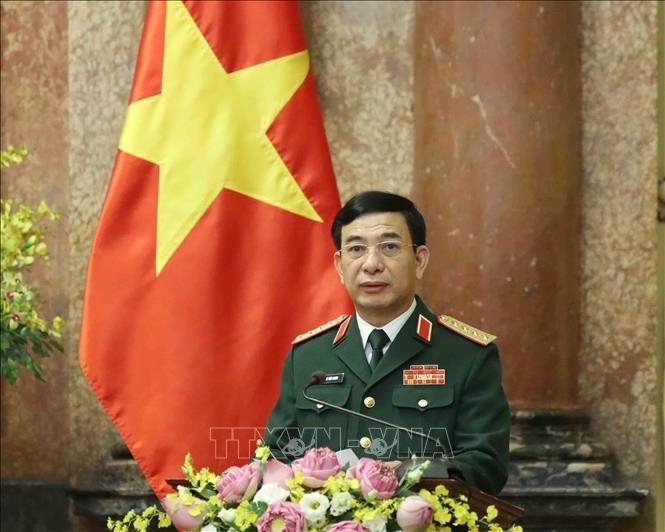 Vietnamese Minister of National Defence Phan Van Giang made the statement during talks held with his New Zealand counterpart Peeni Henare on March 9.
Minister Giang also expressed his sincere thanks to the Government and people of New Zealand for supporting a number of Vietnamese localities in responding to the impact of the COVID-19 pandemic.
He went on to affirm that although the COVID-19 pandemic caused an array of negative impacts, ties of defence co-operation between the two countries have consistently been maintained and developed in line with the signed agreements. This is in line with their wider strategic relationship which supports the common interests of each country and the region as a whole.
He hailed the two defence ministries' efforts at maintaining high-level exchanges and meetings such as the online Defence Policy Dialogue in December 2020 and the current online phone talks.
Regarding multilateral co-operation, the Vietnamese Ministry of National Defence highly appreciates the role and various contributions of the New Zealand Ministry of Defence in multilateral defence and security mechanisms led by ASEAN, especially the ASEAN Defence Ministers Meeting Plus (ADMM+).
Vietnam therefore backs New Zealand in further promoting the ASEAN - New Zealand Strategic Partnership, including effectively implementing the Action Plan for the 2021 to 2025 period in fields related to defence-security co-operation, Minister Giang said.
The two sides affirmed that defence co-operation continues to boast great potential and conditions for stronger development based on their strategic partnership.
On the basis of the signed Memorandum of Understanding (MoU) on defence co-operation, both sides agreed to ask the two defence ministries to continue to proactively devise co-operation plans and be ready to carry them out in an appropriate form when conditions permit. Indeed, there should be a specific focus on intensifying high-level delegation exchanges, as well as researching the establishment of a dialogue channel between defence officials and scholars of the two countries.
The pair consented to bolster co-operation in training, study the possibility of co-operation in the field of cybersecurity, academic exchange, search and rescue, medical research on infectious diseases, and effectively implement the agreement on the implementation of the MoU on Defence Cooperation in UN peacekeeping operations.
They therefore suggested that the two defence ministries soon promote research and work out a three-year coo-peration plan for the next three years up to 2025 to proactively deploy defence co-operation in accordance with the strategic partnership between both sides.