Vietnam, Canada hold bilateral defence consultation
Thursday, 10:53, 08/07/2021
VOV.VN - The 2021 Vietnam - Canada defence consultation was held via videoconference on July 7, with the primary aim of emphasising that defence co-operation has yielded a range of encouraging outcomes.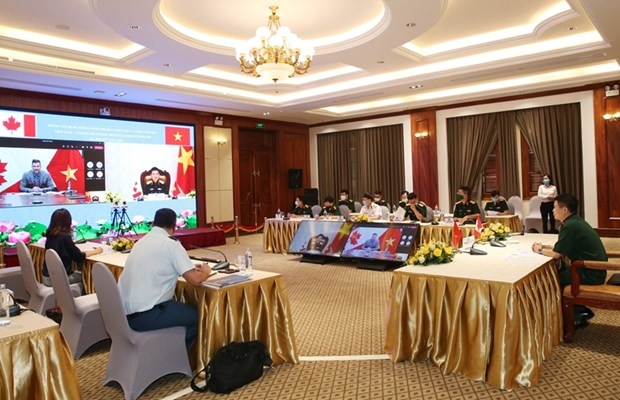 Those participating in the event included a Vietnamese delegation led by Lt. Gen. Vu Chien Thang, director of the Foreign Relations Department at the Ministry of National Defence, along with representatives of the Ministry's agencies, and the military attaché of Vietnam to the United States and Canada.

The Canadian side was led by Peter Hammerschmidt, assistant deputy minister (Policy) at the Department of National Defence, who was joined by the military attaché of Canada to Vietnam.

Officials used the event as a platform to highlight the success of defence co-operation between the two countries as a key factor in continually capturing attention from leaders of the two ministries and been implemented in an effective manner.

Both sides consented to continue the annual defence consultation and defence policy dialogue, increase high-level meetings, whilst strengthening ties in personnel training, UN peacekeeping operations, and maritime security.

Thang therefore expressed his hope that the Canadian Department of National Defence will pay close attention to and support co-operation fields which the Vietnamese side has demand for, such as war aftermath settlements, the local defence industry, military medicine, humanitarian aid, and disaster relief.

He went on to stated that the country will support Canada on the basis of ASEAN's consensus principle when the latter takes part in the bloc's co-operation mechanisms.

During the course of the consultation, both sides also discussed and reached an agreement on the defence co-operation plan for the 2021 to 2023 period, as well as preparations for the Vietnam - Canada defence policy dialogue at a deputy ministerial level this year.