Top Vietnamese legislator hosts RMIT University leaders
Friday, 17:41, 02/12/2022
VOV.VN - National Assembly (NA) Chairman Vuong Dinh Hue received Professor Alec Cameron, vice-chancellor and president of RMIT University, along with representatives of RMIT University's Board of Directors on December 2 in Melbourne.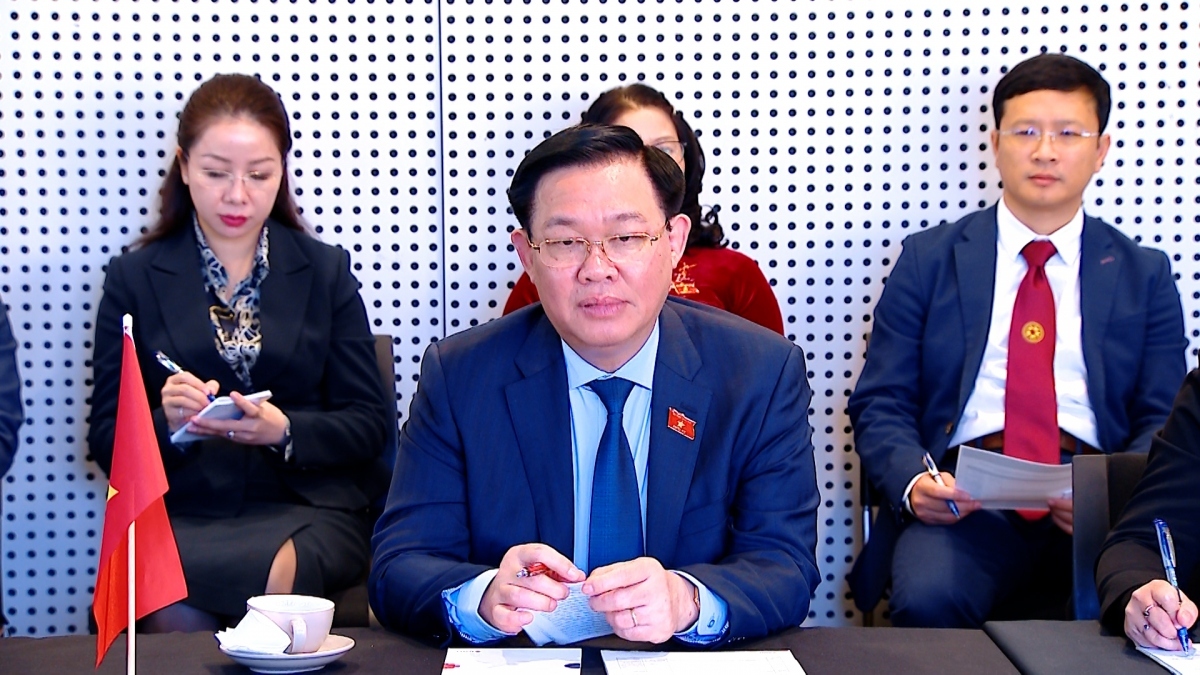 Expressing how impressed he was by the speech made by NA Chairman Hue on joint relations and Vietnamese foreign policy at the Australia-Vietnam Policy Institute (AVPI), an initiative initiated by RMIT University, Prof. Cameron said he was delighted that leaders of both sides had announced their intention to upgrade relations to a comprehensive strategic partnership in the near future.
NA Chairman Hue said this visit aims to promote and deepen the joint strategic partnership across a multitude of fields.
He stated that the country places great importance on education co-operation with Australia, viewing this to be an important field for ties, contributing to promoting the strategic partnership between the two countries in both an effective and practical manner.
With more than 30,000 Vietnamese students and doctoral students studying in Australia, education and training links are viewed as a strong cultural bond between the two nations, as well as being a bridge of friendship between the two peoples, the Vietnamese NA leader said.
Vietnam is currently making efforts in order to speed up the implementation of fundamental and comprehensive renovation of education in general, with a specific focus on higher education.
In 2018, the Vietnamese NA passed a law on amendments and supplements to a number of articles relating to the Law on Higher Education. In 2019 it adopted the Law on amendments and supplements to a number of articles of the Law on Education, NA Chairman Hue continued.
The NA leader suggested that the leadership of RMIT University continue to pay attention to and create favourable conditions for Vietnamese students at the university. This should be done whilst strengthening co-operation and exchanges with Vietnamese universities in university administration, scientific research, and experience in digital transformation.
It is therefore essential to boost the exchange of lecturers, PhD students, and students with Vietnamese universities in fields where RMIT University has strengths, such as science and technology, communication, business administration, fashion design, and language. This is in addition to ramping up co-operation in carrying out joint training and research schemes to mitigate the effects of climate change.
The Vietnamese NA leader also wanted RMIT to share its experience in quality assurance and educational institution ranking, which is also a matter of great concern to the Vietnamese NA and Government.
As Australia's largest higher education institution, the president of RMIT University pledged that the university would make positive contributions to and wholeheartedly support the mutual partnership, especially the development of people-to-people exchanges between the two countries.
Expressing pride that RMIT has had 22 years of operation in Vietnam, as well as affirming its commitment to contribute even more strongly in the future, Prof. Cameron shared that in the 2023 plan, the RMIT University Council has approved a substantial investment that multiplies the current investment in RMIT University Vietnam.
This represents RMIT University's largest investment in an overseas institution and is being done for the purpose of developing RMIT Vietnam into a major international education hub in the region.
RMIT looks forward to working with agencies of the Vietnamese NA and Government to be able to better contribute to Vietnamese education. RMIT is ready to share its experience with local educational institutions, especially in governance and quality accreditation of higher education.