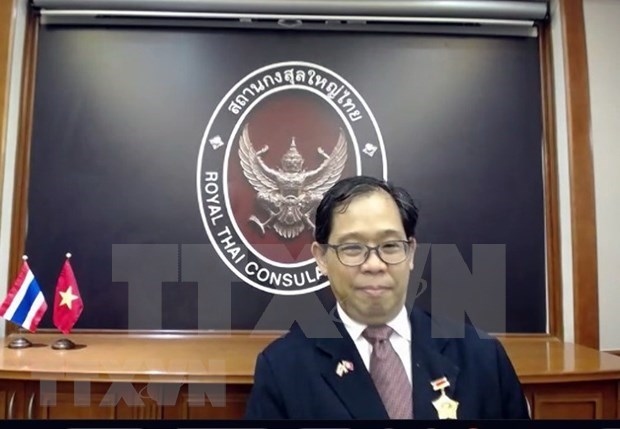 The insignia was awarded to the Thai diplomat in recognition of his valuable and effective contribution to both maintaining and strengthening the friendship and partnership that exists between the citizens on both countries.

During the award presentation ceremony held via video teleconference, Dinh Khac Duy, chairman of the Vietnam-Thailand Friendship Association (VTFA) in Ho Chi Minh City, congratulated Sugondhabhirom. Duy stated that since the Thai diplomat began his mission in Ho Chi Minh City in 2019, he has worked tirelessly to nurture and further develop bilateral ties between the two countries.

The Consulate General of Thailand has also sponsored a number of charitable projects, including those which provide free life-saving surgeries for children with congenital heart defects and cataract surgeries for impoverished patients in Ho Chi Minh City and Tay Ninh.

It also offers scholarships to orphans and students from disadvantaged backgrounds, along with sending Thai students to participate in volunteer work in the southern city. This is in addition to hosting various cultural and youth exchange events aimed at enhancing mutual understanding between the two peoples.

Upon expressing his honour to receive the medal, Sugondhabhirom said he always treasures his friendship with Vietnamese people and will do his best to further boost bilateral ties. He went on to affirm Thailand's commitment to standing by the country's side in combating the COVID-19 amid the pandemic hitting the region.

Through the VTFA in Ho Chi Minh City, the diplomat presented 30 scholarships to Vietnamese students who recorded excellent academic performance in the city.