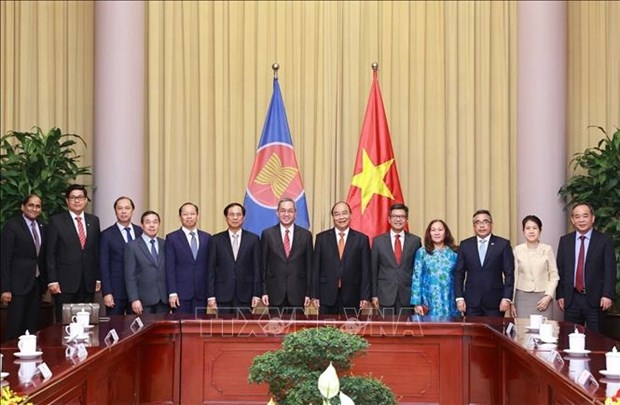 On behalf of the ASEAN diplomats, Brunei Ambassador to Vietnam Pengiran Haji Sahari bin Pengiran Haji Salleh hailed the remarkable achievements the nation has recorded in pandemic containment and socio-economic development in the recent past.
He said he believes that Vietnam will continue reaping new achievements in the time ahead as a means of raising its regional and international stature.

Reviewing Vietnam's achievements as Chair of ASEAN last year, the diplomat praised its major contributions to building the ASEAN Community, coping with the pandemic, and expanding external relations.

He expressed his confidence that President Phuc will continue making his best efforts to deepen the solidarity and cooperation within ASEAN and Vietnam's ties with other bloc members as a contribution to regional and global peace and stability.

Phuc, in turn, emphasized that the participation in ASEAN is always a priority in Vietnam's diplomacy and that the friendship with bloc members has served as the foundation of Vietnam's bilateral relations.

He stated the spirit of cohesive and proactive adaptation has helped ASEAN to overcome difficulties last year, particularly amid the negative impact of COVID-19 on the region's socio-economic aspect.

Solidarity and cooperation among member states as well as the enhancement of ASEAN's central role are key to overcoming obstacles in building a strong and prosperous ASEAN Community in the time to come.
He pledged to continue reinforcing Vietnam's friendship and close coordination with ASEAN members, realizing the ASEAN Community Vision 2025, and making contributions to sustainable development in Southeast Asia.

The Vietnamese State leader expressed his wish that the diplomats will continue promoting their important bridging role and making further contributions to promoting friendship and cooperation between Vietnam and other ASEAN members.
He also extended his greetings to Cambodia, Laos, Myanmar, and Thailand on their traditional New Year festivals and to Muslim countries within ASEAN on Ramadan.