Russian Ambassador impressed with speed of Vietnam's vaccine rollout
Friday, 11:39, 28/01/2022
VOV.VN - The nation has secured vaccine sources in a short time and deployed vaccination on a large scale as it aims to achieve a large vaccine coverage, said Russian Ambassador to Vietnam Gennady Stepanovich Bezdetko.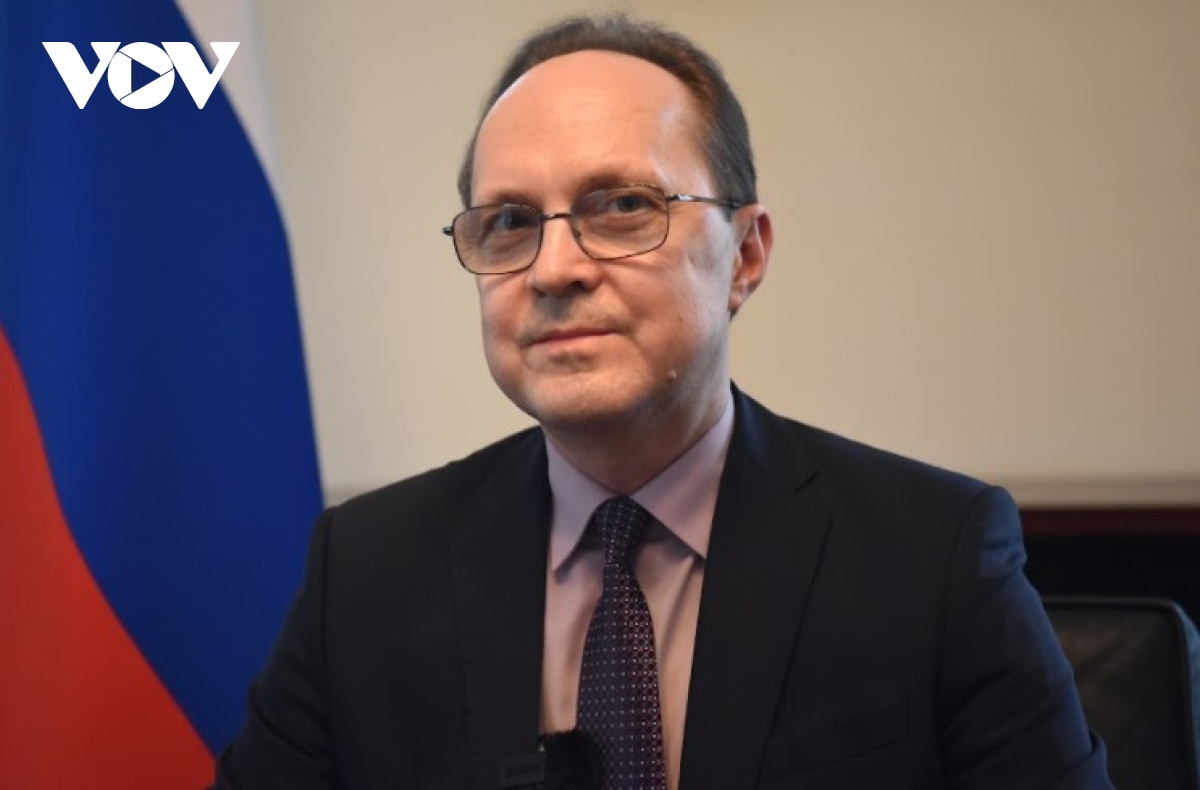 Ambassador Bezdetko has several years studying Vietnamese at Moscow University. He came to Hanoi for the first time in the late 80s and has since returned to the country many times, witnessing plenty of Lunar New Year festivals, known locally as Tet, in the capital.
During the past two years, together with the Vietnamese people, he has witnessed the Vietnamese Government and citizen's efforts to combat the COVID-19 pandemic and to safely adapt to the "new normal".
Ambassador Bezdetko said he is impressed by the way Vietnamese people have fought the pandemic, especially the speed of vaccine coverage in the nation in a recent interview granted to VOV on the occasion of the New Year of the Tiger 2022.
VOV: The relationship between Vietnam and Russia has been tested throughout history, with the two countries celebrating the 70th anniversary of diplomatic relations in 2020. As a representative of the Russian Federation in Vietnam, are you proud of this relationship, and what do you want to contribute to both nations' relations?
Ambassador G.S Bezdetko: Russia and Vietnam are linked by a long-standing friendship and mutually-beneficiary co-operation. During the past seven decades, the two countries have closely co-operated across a multitude of fields and offered mutual support in difficult circumstances.
In recent times we have accumulated a lot of invaluable co-operation experience which serves as the foundation for further promoting our comprehensive strategic partnership, but most importantly, the tradition of solidarity and profound sentiment between the two peoples remains unchanged.
As Russian Ambassador to Vietnam, I have pledged my best efforts to foster bilateral relations in the fields of politics, trade, economy, science, technology, humanities, defence, and security towards further strengthening the mutual comprehensive strategic partnership. This is as well as boosting the friendship and mutually-beneficial co-operation between the two countries.
VOV: Vietnamese President Nguyen Xuan Phuc chose Russia for his first trip abroad in his new position. The visit was made in late 2021, so what is your assessment of the event?
Ambassador G.S Bezdetko: I think this visit is very important for the relationship between the two countries because it brought about concrete results in bilateral co-operation across multiple fields. President Phuc had a host of meetings with Russian President Vladimir Putin and many other leaders. The two sides were able to reach many agreements and our task is to accelerate the implementation of those agreements.
VOV: What co-operation focus will the two sides focus on in the near future?
Ambassador GS Bezdetko: Economic co-operation is viewed as the foundation of the current relationship between the two countries. Therefore, I think that agreements in terms of economics are of great significance, especially in the enhancement of co-operation in oil and gas, trade, and investment.
VOV: When do you get the chance to use Vietnamese?
Ambassador G.S Bezdetko: I started learning Vietnamese a long time ago, back when I was studying at the Institute of Asian and African Countries at Lomonosov Moscow State University, I was passionate about learning oriental studies regarding China, the Republic of Korea, and Japan. However, after entering university, I was taught Vietnamese because at that time my country needed experts who were able to hold exchanges with Vietnamese people.
After graduating from university, I went to Vietnam to practice Vietnamese in 1988 for one year at the Department of Vietnamese for foreigners of Hanoi University at that time. Of course, later I had plenty of opportunities both to learn and use Vietnamese.
VOV: What is your impression of the Doi Moi (renewal) policy in Vietnam?
Ambassador G.S Bezdetko: I think the most important goal of the policy is to shift away from a centrally-planned economy to a market economy. In this aspect I think that Vietnam has recorded many great achievements.
It can be said that the country now boasts a very stable economy across a variety of fields such as import and export, banking, services, and tourism.
Before the pandemic broke out, Vietnamese economic growth was quite high, reaching around 7%, whilst the nation had the ability to become a modern and developed economy both in the region and in the world. In addition, the country has also maintained an effective foreign policy, which attaches importance on relations with traditional friends like Russia.
VOV: During the past two years, like many countries around the world, Vietnam has been heavily affected by COVID-19, how do you observe how Vietnamese people have fought the pandemic?
Ambassador G.S Bezdetko: If I compare it with Russia, I see that the Vietnamese people came together to combat the pandemic in a disciplined and united manner during difficult times. In the early days when the pandemic first occurred, everyone thought that the disease would be contained in a short time and life would return to the way it was before. However, that has not been the case, particularly as our country has encountered certain difficulties.
We have quickly researched and produced vaccines, while convincing people to distance themselves. I think that, despite Vietnamese people starting to research vaccines later than other countries, there are many ways in which to get vaccines.
In just a short time, you were able to access vaccines and moved to deploy vaccination on a large scale to achieve a very large level of vaccine coverage. If I remember correctly, all Vietnamese aged 18 and over have been vaccinated against COVID-19 with at least one dose. This is a very impressive figure.
VOV: Vietnamese people are gearing up for the traditional New Year of the Tiger 2022, have you celebrated Tet in Vietnam many times and what is your impression of this holiday?
Ambassador G.S Bezdetko: I have celebrated the Lunar New Year festival many times in Vietnam. Just like the New Year holiday in Russia, Vietnamese Tet can be fully felt, perhaps only in the North, where there is a marked change of seasons.
The onset of spring is reminiscent of weather changes, especially drizzly conditions. A bustling atmosphere appears before the holiday on local streets, whilst people give each other gifts and decorate their houses. After welcoming the new year, they spend a week enjoying time together with family and friends.
At this moment, for guests in Vietnam, life seems to stop and the streets are left eerily quiet as cafes and restaurants close. This is the right time to go for a walk and visit scenic spots around the capital.
VOV: In the new year, I think most Vietnamese people have the same wish to control the pandemic and to bring life back to normal with less difficulties. As for the Ambassador, what wishes do you have for the Vietnamese people on the occasion of the Lunar New Year festival?
Ambassador GS Bezdetko: On the eve of the long-awaited Tet holiday, which according to Vietnamese tradition is to gather together with family and loved ones, on behalf of the entire staff of the Russian Embassy and on my own behalf, I would like to extended our best wishes to listeners of VOV online newspaper and hope they enjoy health, happiness, and prosperity in the New Year.
VOV: Thank you very much. VOV wishes you a successful working term in Vietnam.