PM suggests Japan help ASEAN narrow development gap
Wednesday, 17:39, 27/10/2021
VOV.VN - Prime Minister Pham Minh Chinh has asked Japan to help ASEAN members, including Vietnam, to develop their strategic infrastructure, spur even and inclusive development, fuel green growth, conduct digital transformation,and aid the recovery of businesses moving into the post-pandemic period.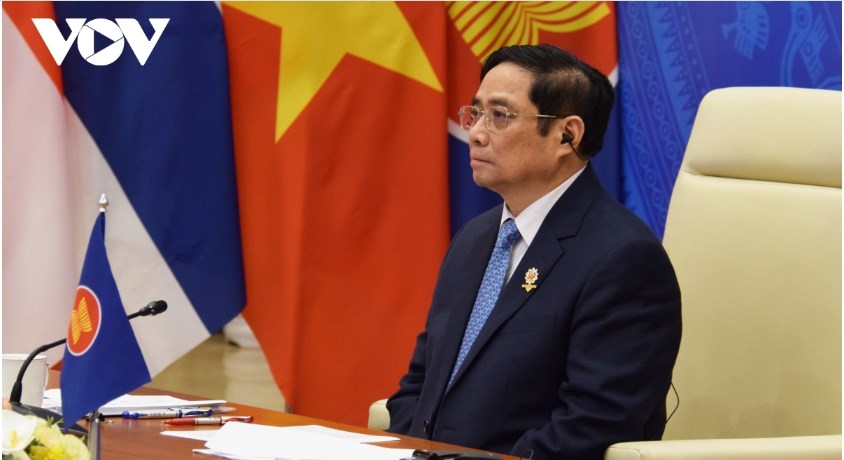 PM Chinh led a Vietnamese delegation to attend the 24th ASEAN - Japan Summit which was held via teleconference on October 27, with the participation of Japanese Prime Minister Kishida Fumio and the ASEAN Secretary General.
During the course of the meeting, ASEAN members and Japan welcomed the progress made in co-operation between the two sides in recent times, whilst agreeing that despite being impacted by the pandemic, many important and substantive results have been achieved.
Leaders of various ASEAN countries expressed their appreciation for Japanese assistance to the bloc during the COVID-19 fight. With two-way trade turnover reaching US$204 billion, total Japanese investment in ASEAN rose to US$8.5 billion in 2020, with both sides continuing to be each other's important production and investment markets.
PM Kishida used the event to affirm that Japan places great importance on its partnership with ASEAN, whilst it also supports the bloc's centrality in the regional architecture and the ASEAN Community building. He went on to pledge to revamp bilateral co-operation moving forward.

He noted that Japan will strive to assist the AC-PHEED to operate sustainably, help ASEAN narrow the development gap, and develop sub-regions. This will be done to invest more resources as a means of helping the bloc with its climate change response, green growth, and sustainable development.

The Japanese PM also invited ASEAN leaders to attend a special summit celebrating the 50th founding anniversary of bilateral ties which is set to transpire in Japan in 2023.
During his speech, PM Chinh said the country will continue making positive contributions to developing joint relations in a more effective and practical manner, while suggesting that both sides should boost closer co-ordination with each other. This should be done in order to restore and stabilise supply chains disrupted by the COVID-19 pandemic, create favourable conditions, and provide maximum support for Japanese enterprises and investors as they strive to maintain stable production and business both in the region and in Vietnam.
He underscored the significance of ramping up co-operation activities, trust building exercises, and responding to challenges to sustain peace, security, and stability throughout the region, including in the East Sea and the Korean peninsula.

PM Chinh welcomed Japanese support to ASEAN in ensuring stability, security, safety, and freedom of navigation and overflight in the East Sea via dialogue, strengthening trust, promoting the relevant parties' commitments and responsible behavior. In addition, other support such as resolving disputes through peaceful measures, and upholding international law and the 1982 UN Convention on the Law of the Sea (UNCLOS), a framework regulating actions and activities at seas and oceans, was also welcomed.

He appreciated the support co-operation with the country during the 2018 to 2021 period, when it served as the co-ordinator of ASEAN-Japan ties.
The Vietnamese PM also applauded the recent progress made in ASEAN - Japan ties amid current difficulties, requesting that both sides continue promoting their priorities and working alongside each other to bring the COVID-19 pandemic under control and recover both effectively and sustainably.

He called for greater co-operation to improve the capacity of responding to future public health emergencies, and spoke highly Japan's vaccine assistance to ASEAN countries, including Vietnam. He also pledged efforts to accelerate the establishment and effective operation of the ASEAN Centre for Public Health Emergencies and Emerging Diseases (AC-PHEED).