Personnel sub-committee of National Election Council convenes 4th meeting
Friday, 19:27, 09/07/2021
Standing Vice Chairman of the National Assembly (NA) Tran Thanh Man chaired the 4th meeting of the personnel sub-committee of the National Election Council (NEC) on July 9.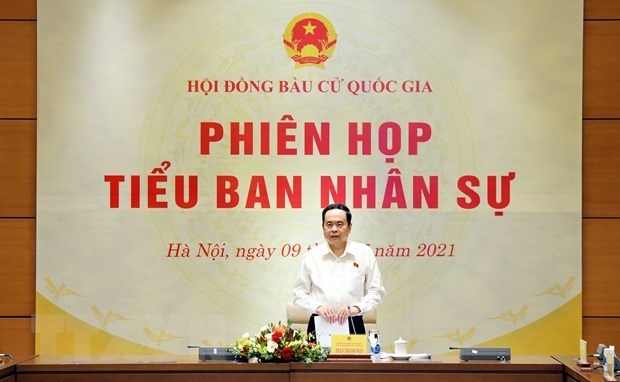 In his remarks, Man said the meeting is very important because the sub-committee is to review and prepare a report and a draft resolution on confirming the eligibility of deputies elected to the 15th NA to submit to the NA Standing Committee's 58th session, and report to the 15th NA at the first session.

He cited the assessment of Party and State leaders that the elections of deputies to the 15th NA and People's Councils at all levels for the 2021-2026 term had been conducted in a democratic manner and in accordance with the law, with remarkable success.

Accordingly, the voter turnout reached 99.6 %, 0.25 % higher than the previous term. It is noteworthy that the %age of ethnic minority people among elected deputies in this tenure reaches 17.84 % - the highest ever. The ratio of female deputies in this term, at more than 30 %, is also the highest since the 6th tenure.

Man emphasised the role of the sub-committee in election preparation work, including preparing candidate profiles and the official lists of NA candidates and constituencies, confirming and reporting the results of the election.

The sub-committee has kept up-to-date with the situation following the elections and solved arising problems, he said, adding that it has coordinated effectively with the Law Commission, the sub-committee in charge of solving complaints and denunciations, and the Ministry of Public Security, in solving important issues.

In the context of complicated developments of the COVID-19 pandemic, and changes in personnel in charge of election work in localities, the sub-committee cooperated with localities to promptly handle arising problems.

During the meeting, participants gave their comments on the report and the draft resolution on confirming the eligibility of deputies elected to the 15th National Assembly so as to complete these documents before submitting them to the NA Standing Committee and the NA.