Top legislator chairs National Election Council's seventh meeting
Thursday, 13:12, 10/06/2021
Chairman of the National Assembly Vuong Dinh Hue, who is also Chairman of the National Election Council (NEC), chaired the council's seventh meeting in Hanoi on June 10.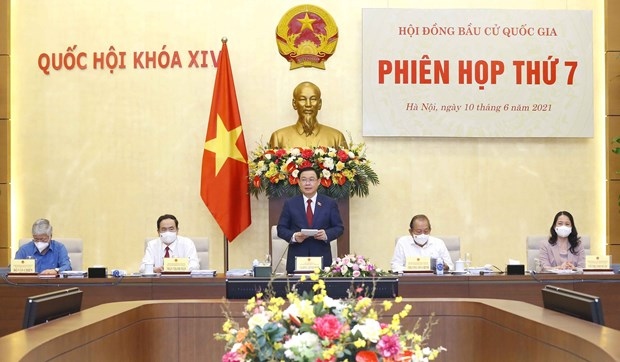 In his opening remarks, Hue said that this session will focus on a draft report on the outcomes of the general elections of deputies to the 15th National Assembly and all-level People's Councils for the 2021-2026 tenure held on May 23.

He asked council members to give comments on the leadership and direction of elections, the formation and operation of the NEC and related organisations, personnel and consultation works, as well as the organisation of election canvass, especially amidst the outbreak of COVID-19.

Participants were required to analyse reports on the elections in terms of the number, quality and structure of elected deputies, and discuss works that need to be done in the time to come.

During this meeting, the council is scheduled to discuss and approved minutes summarising the election of NA deputies, and a resolution announcing the results of the elections and the list of elected NA deputies.