Party chief's book on corruption fight to make debut
Thursday, 09:35, 02/02/2023
A book by General Secretary of the Communist Party of Vietnam (CPV) Nguyen Phu Trong regarding the fight against corruption and other negative phenomena will be released at a ceremony in Hanoi on February 2, according to the CPV Central Committee's Commission for Internal Affairs.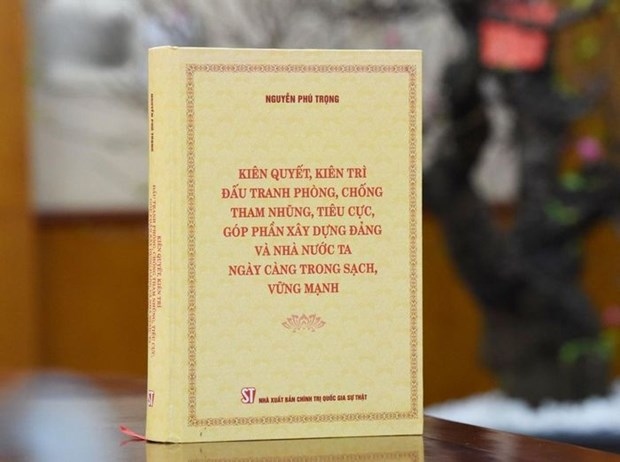 The debut is timed for the 93rd anniversary of the CPV (February 3) and the 10th anniversary of the Central Steering Committee on Prevention and Control of Corruption and Negative Phenomena (February 1), the commission said.

The book, entitled Resolutely, persistently fighting corruption and negative phenomena to contribute to building more transparent and stronger Party and State, is jointly published by the commission and the Su That (Truth) National Political Publishing House.

It presents directions of Trong as the Party leader and head of the steering committee in a systematic manner, and demonstrates the Party's consistent ideology on the prevention and control of corruption and negative phenomena, Party building and rectification, and the improvement of morality and lifestyle of officials and Party members.

With nearly 100 photos, the 600-page book comprises three parts presented in a modern press style.

The first part focuses on issues drawn from the fight against corruption and negative phenomena in Vietnam, featuring the Party chief's article reviewing the combat since the establishment of the steering committee in 2013, along with his closing remarks made at national conferences on the fight in 2014, 2018, 2020 and 2022, and 36 meetings of the steering committee.

The second introduces 22 articles on Party building and rectification by the Party chief, including four reviewing the work since the first years of Doi Moi (Reform), and eight on the improvement of morality and lifestyle of officials and Party members, including some written in the 1970s.

The last is a collection of opinions and assessments of people from different walks of life, National Assembly deputies, and foreign politicians and scholars on Vietnam's anti-corruption efforts under the Party leadership.

An electronic version of the book will be available at the website stbook.vn.

In the past decade, relevant agencies nationwide have commenced legal proceedings against 2,657 corruption cases involving 5,841 people, and prosecuted 2,628 cases with 6,199 defendants.