NA leader lauds State Audit Office's crucial contributions
Friday, 18:51, 27/01/2023
Chairman of the National Assembly (NA) Vuong Dinh Hue made a new-year visit to the State Audit Office of Vietnam (SAV) on January 27, the first working day after the week-long Lunar New Year holiday.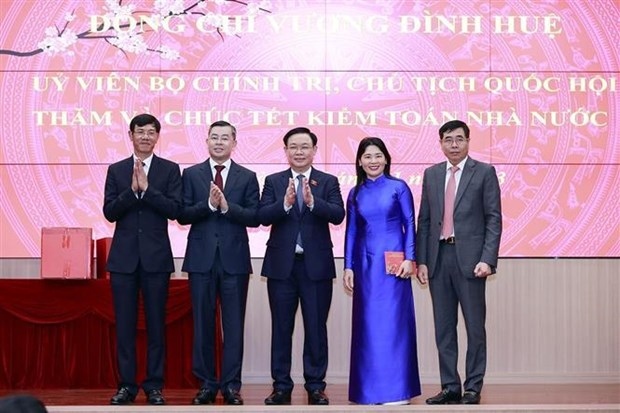 The top legislator praised the efforts and initiatives by the audit sector to fulfil its tasks last year, saying that it contributed importantly to great achievements of the country in general, as well as the NA and the Government in particular.

He noted that the SAV has done a good job in assisting the NA's supervision work, especially in inspecting the implementation of policies and laws on thrift practice and anti-wastefulness.
The NA leader also commended the SAV on its external activities. The agency has maintained cooperation mechanism with the state audit agencies of Laos and Cambodia, and made important contributions to the Asian Organisation of Supreme Audit Institutions (ASOSAI) and the ASEAN Supreme Audit Institutions (ASEANSAI).

The top legislator said the Party and State expect that the SAV will play a more crucial role in the fight against corruption and negative phenomena, and in thrift practice and wastefulness prevention, contributing to strengthening financial and budget disciplines.

He said he hopes that the SAV will have a more prestigious voice in the community of ASOSAI, ASEANSAI, and the International Organisation of Supreme Audit Institutions (INTOSAI).

The NA chairman took the occasion to wish staff of the agency good health, happiness, and successes in the Year of the Cat.