India considers Vietnam a steadfast partner in its journey
Friday, 09:32, 13/08/2021
VOV.VN - Indian Ambassador to Vietnam Pranay Verma highlighted the nation as a steadfast partner which has contributed to India's progress during the course of a webinar held on August 12 in anticipation of the 74th anniversary of India's independence Day (1947-2021).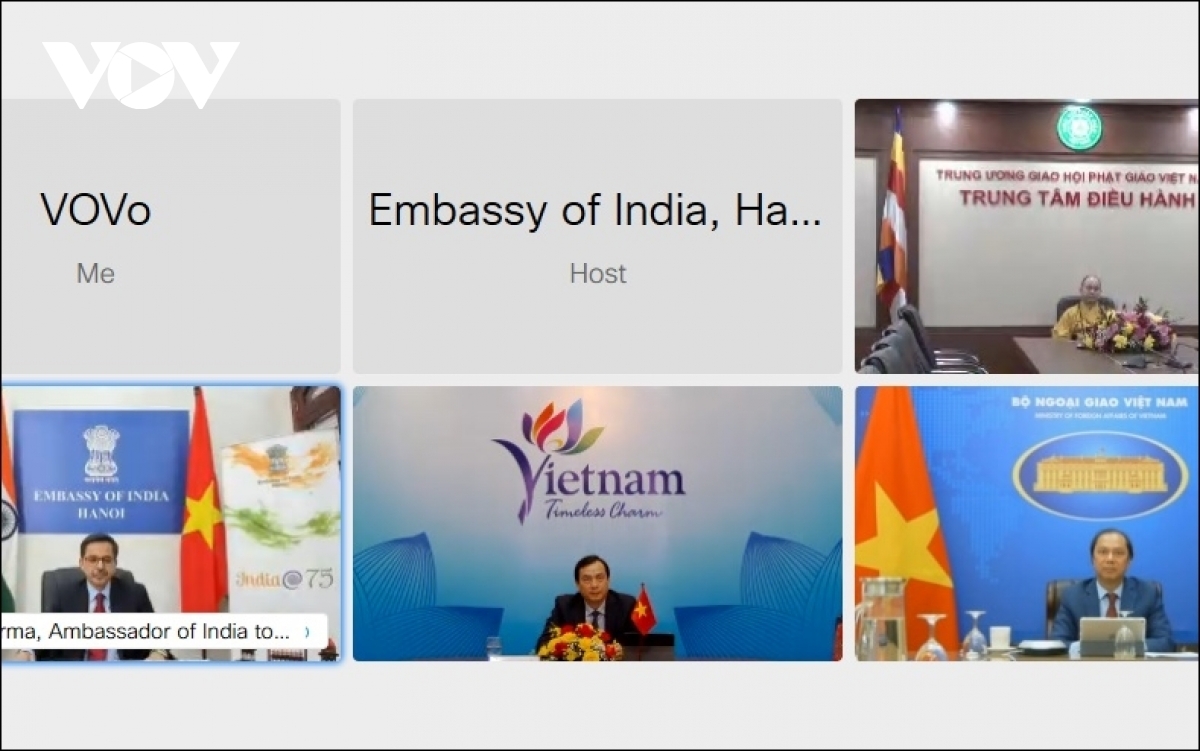 The event was designed to celebrate India's Independence Day, whilst also looking back at the comprehensive strategic partnership between the two countries.
The webinar featured the participation of Ambassador Verma, Deputy Minister of Foreign Affairs of Vietnam Nguyen Quoc Dung, and Nguyen Phuong Nga, president of the Vietnam Union of Friendship Organizations (VUFO). They were joined by Most Venerable Thich Duc Thien, vice president and general secretary of the Vietnam Buddhist Sangha, alongside Indian researchers and friends based in Vietnam.
In her speech as VUFO president, Nga pointed out many common factors between both sides in their respective journeys to independence and freedom, while Venerable Thich Thien shared information regarding the relationship between the two countries from a cultural and Buddhist perspective.
The Vietnam Buddhist Sangha has successfully forged a close relationship with the Indian Embassy in Vietnam, with the two sides jointly co-organising a broad array of events, Venerable Thich Thien stated.
Tourism remains one of the key areas of co-operation between the two sides, according to Nguyen Trung Khanh, head of the Vietnam National Administration of Tourism, with the Vietnamese tourism industry receiving plenty of support from India.
There have been many trips taken by Vietnamese travelers to India for the purpose of cultural, spiritual, and medical tourism. Indeed, the two sides have enjoyed effective co-operation in terms of issuing visas for tourists, along with opening direct flights between the two countries, Khanh said.
Khanh went on to acknowledge that the impact of the COVID-19 pandemic last year negatively impacted both nations' tourism industry, although he believed that the tourism industry of the two countries would soon recover after the pandemic.
Furthermore, former Vietnamese Ambassador to India Ton Sinh Thanh outlined trade and investment ties between the two countries. According to the former diplomat, India still has achieved great achievements in this regard, despite the negative impact of the COVID-19 pandemic.
He went on to suggest that the two sides negotiate a bilateral free trade agreement in the near future.
The nation first officially established diplomatic relations with India in January, 1972, with their half a century of ties falling on the start of the next year.