Hanoi aspires to boost co-operative ties with Italian localities
Thursday, 11:39, 25/03/2021
VOV.VN - Co-operative ties between Hanoi and Italian localities have enjoyed a strong period of development in recent times, Chu Ngoc Anh, chairman of the People's Committee of Hanoi, stated during a reception held on March 24 in Hanoi for Italian Ambassador to Vietnam Antonion Alessandro.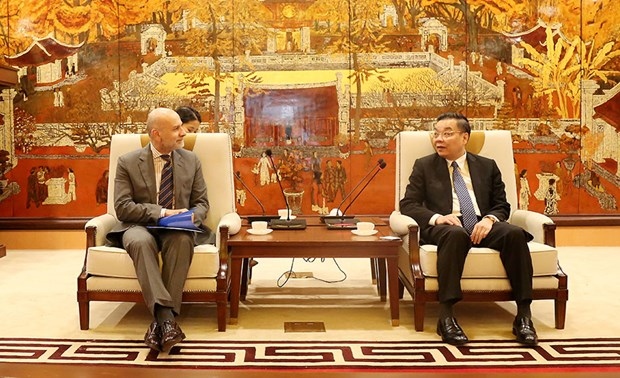 The municipal leader hailed the ever-closer relationship between the country and Italy across a wide range of fields, including politics, economy, diplomacy, national defence, science-technology, and education.

This comes after Italy has poured more than US$43.9 million in investment capital into 28 projects throughout Hanoi, with the capital's exports to the European nation reaching approximately US$142 million.
Most notable, a broad array of activities have been launched as a means of enhancing both cultural and economic exchanges towards enjoying common prosperity for both sides.

Moving forward, Hanoi will work closely with various departments and agencies to hold activities, especially for the opening and closing ceremonies of events, as part of the capital's efforts to organise a wide range of important functions this year, including the 31th Southeast Asian Games and the 11th ASEAN Para Games.
Anh also voiced his hopes that through its rich cultural history, Italy will share its experience in holding festivals and sport events with Hanoi, thereby assisting the capital with its thorough preparations in the buildup to SEA Games 31 and ASEAN Para Games 11.

In response, Ambassador Alessandro expressed his confidence that through a solid foundation, relations between both nations will further develop in the future.
He added that many Italian firms enjoy strengths in terms of holding large-scale events, thereby promising to introduce them to Hanoi in order to share experience in this regard in the near future.
The Italian diplomat added his desires to bolster collaboration with Hanoi, particularly in the fields of cultural exchanges, heritage preservation, and the speeding up of construction progress on urban metro No.3.