Great potential for stronger Vietnam- Mozambique cooperation
Wednesday, 11:17, 31/05/2023
VOV.VN - Deputy Minister of Agriculture and Rural Development Nguyen Quoc Tri and Mozambican Deputy Minister of Foreign Affairs and Cooperation Manuel José Gonçalves co-chaired the fourth meeting of the Vietnam – Mozambique Intergovernmental Committee on Economic, Culture and Scientific-Technological Cooperation on May 30 in the Mozambique capital of Maputo.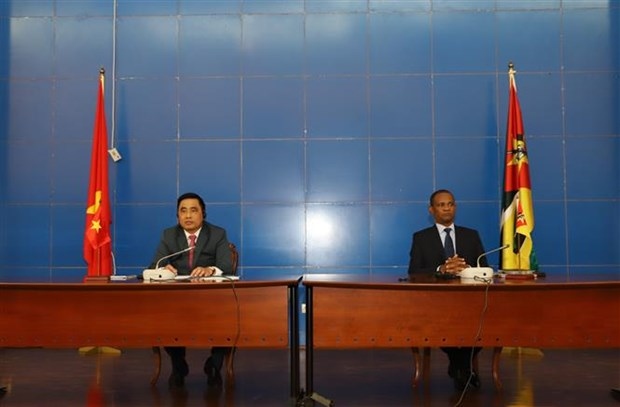 With the function taking place after nearly a decade of interruptions due to various factors, especially the COVID-19 pandemic, the meeting holds great significance for bilateral ties between both nations, which have existed for 48 years since the initial establishment of diplomatic ties back in 1975.
Deputy Minister Gonçalves highlighted the importance of intensifying high-level meetings and visits between the two sides, outlining that high-level talks between Party General Secretary Nguyen Phu Trong and President of the Liberation Front of Mozambique (FRELIMO) Filipe Jacinto Nyusi, as well as the visit to Vietnam by President of the Assembly of Mozambique Esperanca Laurinda Francisco Nhiuane Bias in 2022, contributed to strengthening and deepening the friendship and linkages that exist between the two countries.        
Both sides briefed each other on socio-economic, trade, and foreign investment situations in their respective countries, thereby highlighting the ongoing efforts being made by the governments of both countries to expand bilateral co-operation.

The two sides reaffirmed the importance of the agreements and memoranda of understanding in investment promotion and protection, double taxation avoidance, trade, agriculture, fisheries, education, healthcare, visa exemption for diplomatic passport holders, and defence. They therefore stressed the importance of those who have contributed to strengthening ties for the benefit of the two peoples on the basis of equality and mutual benefit.
They also reviewed co-operation between the two nations and noted satisfaction with the progress being made in both bilateral and multilateral areas.

The officials showed their commitment to ramping up efforts to carry out the agreed activities and work together towards achieving a common prosperous future that senior leaders of the two sides discussed and agreed upon.

They consented to hold the fifth session of the committee in Hanoi ahead in 2026.