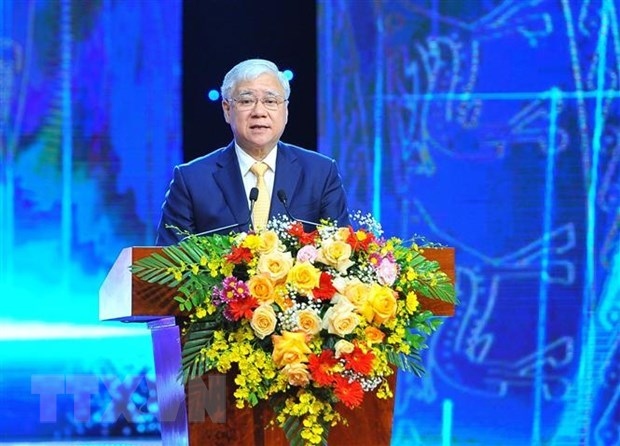 Talking with the press, Chien said no other country in the world has a great national unity festival that is celebrated in each residential area like in Vietnam, which should be further promoted.
As such, the Party Delegation to the VFF next month will submit to the Party Central Committee's Secretariat a scheme on building a self-governance model in residential areas to further promote the spirit of great national unity, which is an invaluable tradition and asset of the nation, he said.
The national unity spirit will help the country overcome any challenges, as clearly seen in the fight against COVID-19, the VFF leader said. He noted that when the COVID-19 pandemic broke out, especially during the fourth resurgence, the entire Party, people and armed forces joined hands in the spirit of "fighting pandemic is like fighting enemy".
In response to the appeals by the Party General Secretary and the VFF, Vietnamese people in and outside the country donated millions of welfare bags and tens of thousands of tonnes of food and medical equipment to send to localities hard hit by the pandemic to help them with the fight.
In particular, the business community, philanthropists and people from walks of life donated nearly VND20 trillion to help those in need, especially buying vaccines to expand vaccine coverage. Residents also actively joined anti-pandemic movements at checkpoints and community groups.
According to the VFF leader, the festival is held in concurrent with the VFF's Traditional Day, providing a chance for people to review the history tradition of the VFF and for leaders of the Party, State and authorities at all levels to meet communities to grasp public aspirations and helps convey the Party and State's policies and guidelines to the public.
In such spirit, Party and State leaders came to residential areas to listen to public aspirations. Citizens also discussed measures to effectively carry out the Party and State's policies and restore socio-economic development.