WB asked to prioritise soft infrastructure development in Vietnam
Tuesday, 19:11, 19/07/2022
VOV.VN - National Assembly Chairman Vuong Dinh Hue has requested that the World Bank give priority to assisting Vietnam in developing its soft infrastructure, including financial and technical support for policymaking and ecosystem development.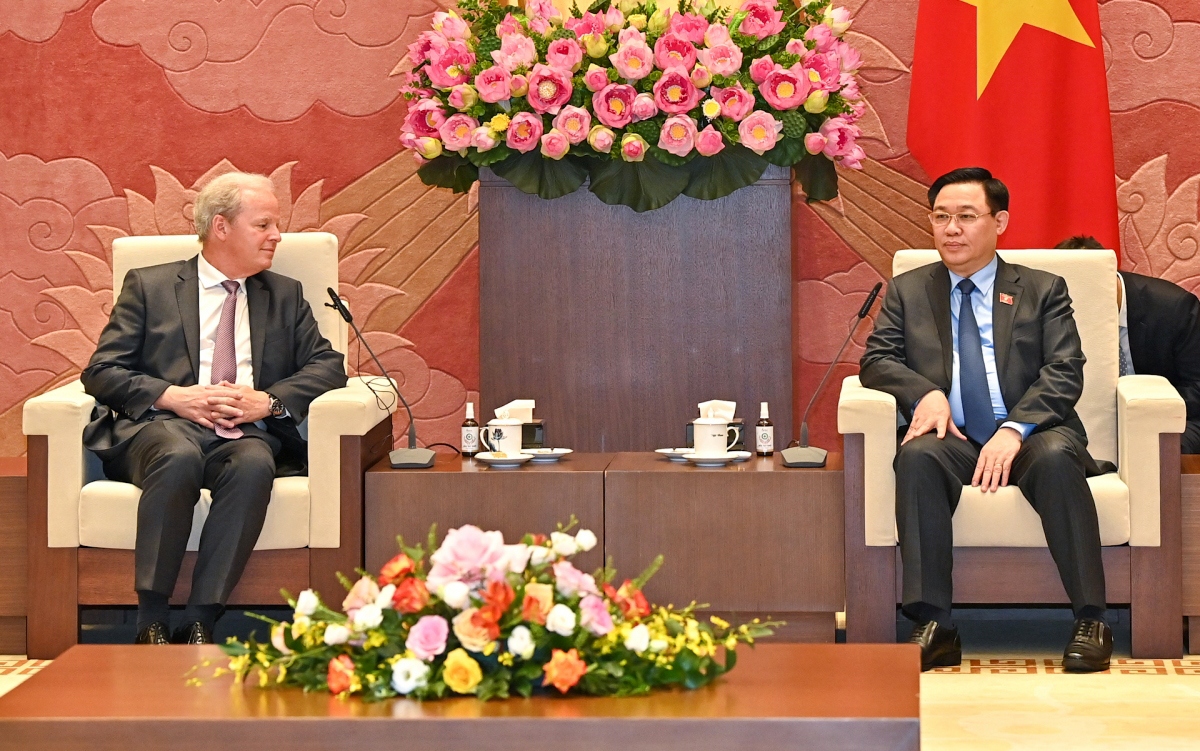 Hue made the request at a reception in Hanoi on July 19 for World Bank Managing Director of Operations Axel van Trotsenburg who was in Vietnam for a visit.
He also proposed that the World Bank continue to support Vietnam in developing key inter-regional projects, creating a driving force for regional spillover and climate change adaptation.
Vietnam needs support and assistance from the World Bank and other international partners to develop its capital market, form a carbon market, and operate ecosystems on climate change adaptation and energy transition, said the chief legislator.
He recalled that at the recent 26th UN Conference on Climate Change (COP26) Vietnam made a strong commitment to bringing net emissions to zero by 2050, a level on a par with commitments by European countries. To achieve this goal, international support is needed in addition to Vietnam's efforts, Hue said.
He welcomed the bank's climate change response efforts in the Mekong Delta and said the bank should have a greater say in strengthening cooperation in the greater Mekong sub-region, including the water security issue.
For his part, van Trotsenburg expressed his elation at the close relationship and effective cooperation between the World Bank and Vietnam over the years. During the visit, he said he would like to explore future cooperation between the two sides, especially in the fields of responding to climate change in general and in the Mekong Delta in particular, implementing the COP26 commitment and coping with possible epidemics in the future.
The World Bank is ready to enter into in-depth discussions in terms of policymaking with the National Assembly of Vietnam and other relevant agencies in order to effectively implement the country's sustainable development goals and especially climate change adaptation progrmmes, said van Trotsenburg.
The World Bank wishes to be an effective partner of Vietnam in the field of climate change response, he told his host.
Currently, he said the World Bank and the Government of Vietnam are also coordinating in developing a strategic framework for cooperation between the two sides for 2023 - 2027. The bank is also working closely with Vietnam to draft the Vietnam 2045 Report to address many changes taking place in the world and affecting Vietnam, and to help the country achieve its development goals by 2030 and 2045.