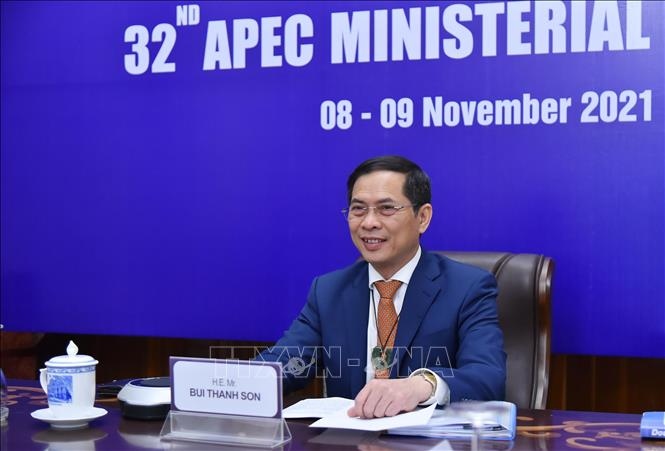 Son said the Putrayaja Vision 2040 launched by APEC leaders last year demonstrates APEC members' determination and commitment to overcome difficulties and bring the economy back to a trajectory of strong and sustainable growth, for prosperity of the people and future generations.
With regard to cooperation priorities, he suggested that APEC should bring into full play its leading role in limiting trade barriers and discriminatory measures, especially for essential goods, expanding a network of free trade agreements, and promoting an open, transparent, inclusive, rules-based multilateral trading system and WTO reform.
APEC should improve the resilience of supply chains by speeding up the implementation of agreed cooperation programs on connectivity, digital economy, and small and medium enterprises in order to facilitate human movement and goods circulation, promote digital transformation, and enhance the resilience of enterprises, he said.
At the same time, to help control the COVID-19 pandemic, Son suggested that APEC should support its members to access vaccines in a timely manner, increase cooperation in technology transfer, research and production of vaccines, and improve the capacity of the community health system, and its ability to respond to infectious diseases and medical emergencies in the future.
According to Minister Son, fostering economic recovery goes hand in hand with strengthening global resilience, sustainability and inclusiveness.
It is therefore necessary to promote cooperation in trade facilitation of goods, environmental services, circular economy, energy - water - food security, climate change and disaster risk management, along with improving women's economic power and supporting disadvantaged groups, he stressed.
Attending the virtually held meeting, foreign and trade ministers of all APEC member economies agreed to strengthen measures to respond to the COVID-19 pandemic, ensure equal access to vaccines and treatment measures, expand vaccine production and supply, and invest in the healthcare system.
They agreed to form a dynamic and connected Asia-Pacific region through efforts to ensure a free, open, and non-discriminatory trade and investment environment, prevent supply chain disruption, promote mutually beneficial trade relations, and seize opportunities from the fourth industrial revolution and digital transformation.
The ministers approved the joint statement of the meeting and two appendices on assessment of the roadmap for competitive services in APEC and the APEC environmental services reference list.