Vietnam calls on G7 to support safe vaccine access, distribution
Monday, 07:02, 13/12/2021
VOV.VN - Vietnamese Foreign Minister Bui Thanh Son has called on the Group of Seven (G7) to support ASEAN in accessing and distributing vaccines in a safe, effective and timely manner as well as transferring vaccine production technology in the ongoing fight against COVID-19.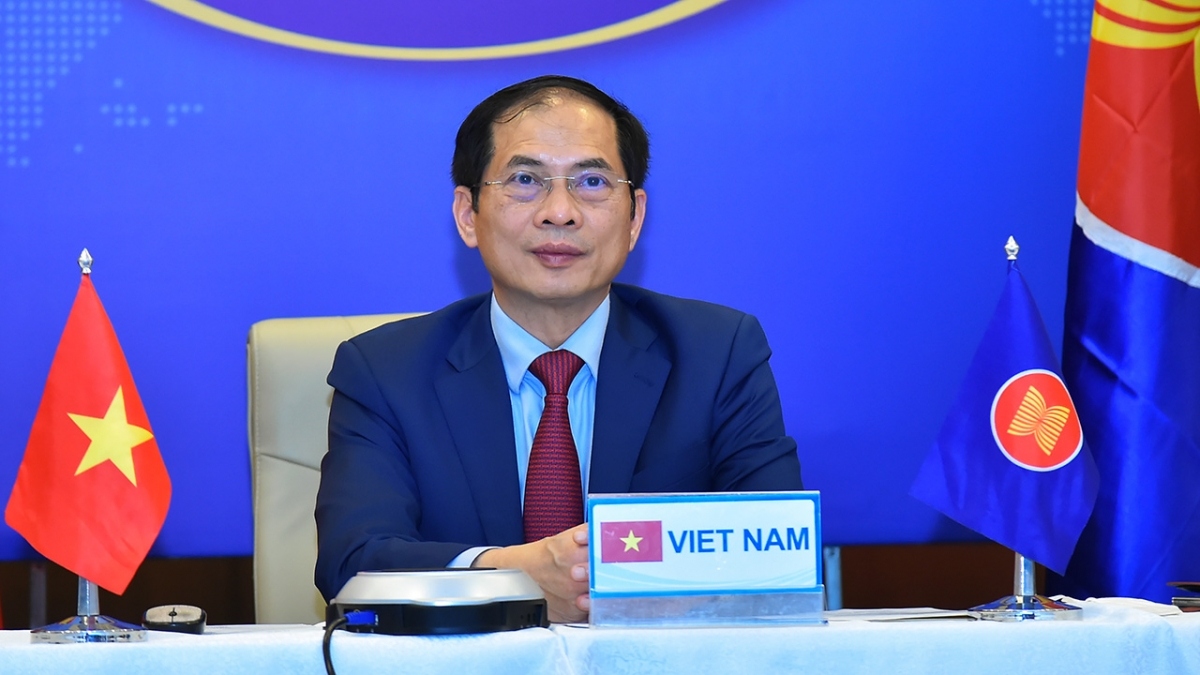 Addressing the ASEAN – G7 Foreign Ministers' Meeting held virtually on December 12, Son also suggested that countries maintain market openness, invest more in sustainable infrastructure, and promote digital transformation as well as greener and cleaner growth.
Recalling commitments made at the recent 26th UN Conference on Climate Change (COP26) in Scotland, Minister Son suggested that the G7 should take the lead in reducing greenhouse gas emissions, strengthen cooperation with ASEAN in fulfilling the commitments through green financial investment and clean technology, and at the same time help to narrow the development gap in ASEAN.
He requested the G7 support ASEAN's efforts in maintaining peace, stability, cooperation and prosperity in the East Sea, fully implementing the Declaration on the Conduct of Parties in the waters and trying to achieve the Code of Conduct (COC) in accordance with international law, including the 1982 UN Convention on the Law of the Sea (UNCLOS).
At the meeting, the G7 countries affirmed their support for ASEAN's central role, emphasized the importance of relations with the bloc, and pledged to actively participate in and contribute to ASEAN-led mechanisms. They expressed their willingness to strengthen cooperation in accordance with the framework mentioned in the ASEAN Outlook on the Indo-Pacific.
The participating countries affirmed the importance of maintaining peace, stability, security, safety, and freedom of navigation and overflight in the East Sea. They supported the promotion of dialogue, confidence-building, and self-restraint measures, and peaceful settlement of disputes.
They welcomed and expressed their wish to soon have an effective and efficient COC in the waters in accordance with international law, including the 1982 UNCLOS.
The G7 countries were committed to providing safe, effective and affordable vaccines to ASEAN countries. They vowed to improve ASEAN's public health capacity, enhance early warning capacity, and transfer vaccine production technology to the Southeast Asian bloc.
In addition, the G7 pledged to join ASEAN in mobilizing resources for building sustainable and environmentally friendly infrastructure, developing clean and renewable energy sources, and supporting enhanced maritime cooperation and sustainable marine environment protection.
ASEAN and G7 countries agreed to boost cooperation in COVID-19 response, and promote a comprehensive and sustainable recovery, with a primary focus on maintaining market openness, stabilizing regional supply chains and investing in new technologies and innovations, in order to create new impetus for recovery and growth. They also consented to develop the digital, green economy, and effectively respond to climate change.