Vietnam, Brunei strengthen parliamentary cooperation
Wednesday, 16:44, 09/06/2021
VOV.VN - Vietnam National Assembly Chairman Vuong Dinh Hue and Brunei Legislative Council Speaker Pehin Dato Abdul Rahman Taib, during their phone talks on June 9, discussed measures to promote cooperation between the two legislative bodies and within the ASEAN Inter-Parliamentary Assembly (AIPA).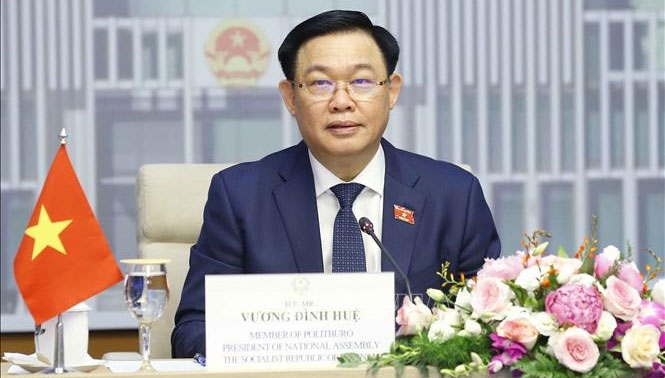 The two leaders agreed that the Vietnam - Brunei cooperative relations have developed positively in all spheres in recent times, particularly following the lifting of their relationship to a comprehensive partnership in 2019 during a Vietnam visit by the Brunei Sultan. Bilateral economic and trade cooperation has been maintained despite the negative impact of the COVID-9 pandemic.
On future cooperation, NA Chairman Vuong Dinh Hue suggested that the two countries strengthen exchanges and contacts at all levels and through various channels to bring into full play bilateral cooperation mechanisms.
To this end, he said both countries should make thorough preparations for the upcoming second session of the Vietnam-Brunei Joint Committee for Economic, Scientific and Technical Cooperation to examine directions for promoting cooperation in the areas of their common interest, including aquaculture, agriculture, food processing, oil and gas exploitation, so as to raise their trade value to US$500 million soon.
He also proposed that Brunei support Vietnamese businesses in obtaining Halal food certificates in order to export their products to the Brunei market.
NA Chairman Vuong Dinh Hue congratulated the Legislative Council of Brunei on assuming the role of AIPA 42 President and affirmed that the National Assembly of Vietnam supports and is willing to work closely with the Legislative Council of Brunei to make its ASEAN Chairmanship Year 2021 and the AIPA 42 Presidency a great success.
The parliaments of all regional countries should take practical cooperation initiatives to support ASEAN in all fields, including politics and security, as well as in responding to emergencies, natural disasters, epidemics and non-traditional security risks, he suggested.
He emphasized the need for ASEAN countries to uphold the bloc's common principles, values ​​and standards, reinforce its solidarity and central role, and respect the rule of law, including the 1982 United Nations Convention on the Law of the Sea (UNCLOS), towards building a substantive and effective Code of Conduct (COC) in the East Sea.
Economically, Hue said more efforts should be made to build a sustainable ASEAN economy, soon implement a digitalization strategy, and develop an open multilateral trading system on the basis of rules and equality for all member states. On social culture, it is necessary to put the people at the center of policy making and promote ASEAN's identity.
On foreign affairs, Hue underlined the importance of increasing ASEAN'' central role, strengthening the rules-based regional structure, and upholding international law, with a primary focus on multilateral cooperation.
For his part, Speaker Pehin Dato Abdul Rahman Taib welcomed Hue's proposals, saying these issues will be concretized during Brunei's ASEAN Chairmanship and AIPA Presidency this year. He also congratulated Vietnam on successfully hosting the ASEAN Year and the AIPA 41 General Assembly in 2020.
He said during its ASEAN Chairmanship this year Brunei focuses on strengthening intra-regional cooperation, including cooperation between national parliaments and digital inclusion in the ASEAN Community.
Emphasizing that this is a hot topic at present, Speaker Abdul Rahman Taib expressed his hope both countries will cooperate closely within the ASEAN and AIPA frameworks to look forward to the future altogether.
With regard to the fight against the COVID-19 pandemic, both leaders voiced their support for a fair and equal distribution of vaccines among countries.