Vietnam attends ASEAN Senior Officials' Meeting in Cambodia
Wednesday, 16:06, 16/02/2022
VOV.VN - An ASEAN Senior Officials' Meeting (SOM) took place physically and virtually on February 16 in Phnom Penh of Cambodia that is assuming the role as ASEAN Chair in 2022.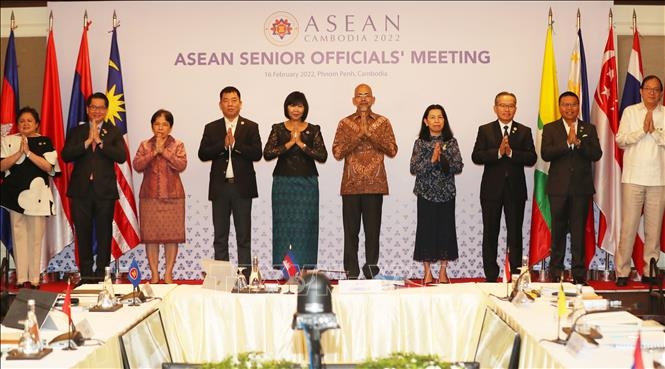 Ambassador Vu Ho, acting head of Vietnam's ASEAN SOM delegation, attended the opening of the meeting.
Delegates examined preparations for an ASEAN Foreign Ministers' Retreat (AMMR) on February 16-17 in Phnom Penh. They also reviewed the implementation of the Five-Point Consensus on Myanmar approved by the ASEAN Leaders in April 2021, believing that the successful implementation of the document will help stabilize the situation in the country, and contribute to the ASEAN Community building process.
At the event, Ambassador Vu Ho affirmed Vietnam's commitment to working closely with Cambodia, and other ASEAN members to build a united, strong, stable and self-reliant ASEAN, creating a premise for realizing the bloc's goals. He also proposed a number of initiatives as well as orientations aimed at raising the level of the ASEAN-RoK dialogue relations coordinated by Vietnam.
During the AMMR on February 16-17, the ASEAN Foreign Ministers are expected to discuss and agree on the bloc's cooperation agenda, including its priorities in 2022.
They will examine efforts to promote ASEAN Community building and ASEAN Vision beyond 2025, and realise the outcomes of the 38th and 39th ASEAN Summits.
The diplomats will also exchange views on ASEAN's external relations, and other international and regional issues of mutual concern.