PM receives US-ASEAN Business Council executives
Wednesday, 00:20, 09/03/2022
VOV.VN - Prime Minister Pham Minh Chinh on March 8 received executives of the US-ASEAN Business Council (USABC) in Hanoi.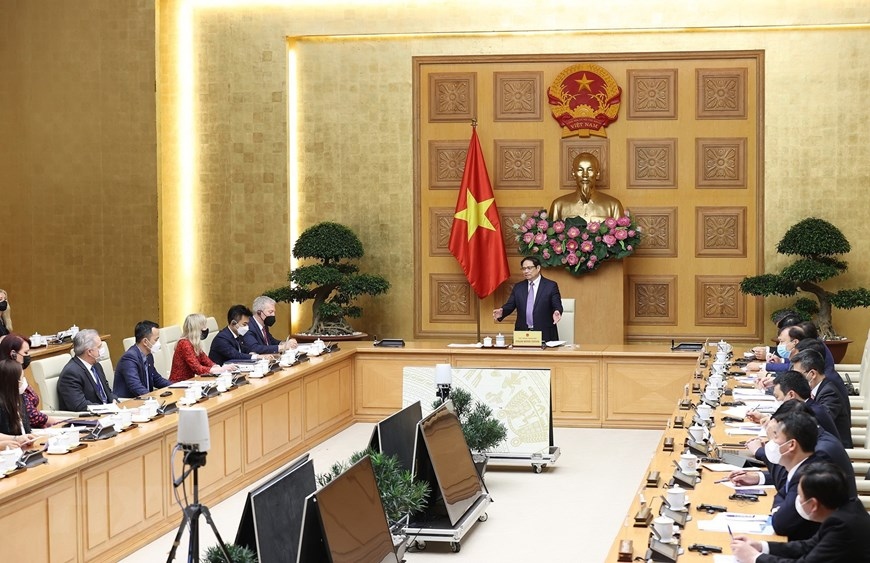 The PM said that Vietnam always attaches importance to and wishes to further deepen and develop the Vietnam-US Comprehensive Partnership to new heights on the basis of mutual respect and mutual benefit.
The economic - trade - investment cooperation is the pillar and strong driving force behind the development of bilateral ties, he said, adding that the two countries still hold great potential for developing economic ties.
USABC executives highly appreciated positive policies the government of Vietnam has adopted to support businesses in weathering the COVID-19 crisis. They expressed impression of Vietnam's pandemic prevention results, including its internationally recognized high vaccination coverage, as well as its strategy of living safely with the virus.
They affirmed their desire to strengthen cooperation in Vietnam, especially in the fields of energy conversion, carbon emission reduction, digital transformation, aiming to increase the scale of the country's digital economy from US$21 billion in 2021 to US$57 billion in 2025.
They also vowed to ramp up cooperation in making vaccines and drugs for COVID-19 treatment, and improving medical capacity to respond to epidemics.
At the meeting, the PM briefed his guests on the results of the US-Vietnam Business Summit taking place in the morning of the same day. He called on the two countries' business communities to strengthen their partnerships to promote bilateral cooperation practically and effectively.
"With the motto of harmonious interests and shared risks, sincere sentiments and trust, we already have a good foundation and strong ambition and determination, we will surely succeed," he stressed.
"The Government of Vietnam is willing to listen to, share, accompany and continue to introduce many solutions to remove difficulties for businesses, including those from the US to operate efficiently in the country," he assured.
PM Chinh emphasized that Vietnam wants to build a substantive, effective digital transformation ecosystem, focusing on the fields that the US has strengths and Vietnam has desire to develop.
He suggested the US create conditions for Vietnamese agricultural products to make inroads into its market and avoid trade remedies that may harm Vietnamese farmers and US consumers.
The US is currently the largest export market of Vietnam, while Vietnam is the ninth largest trade partner of the US. Two-way trade saw a 248-fold rise to US$111 billion last year. Over the years, the US has been among the largest foreign investors in Vietnam with nearly 1,150 underway projects worth over US$10.3 billion.