PM Chinh invites Russian Premier to visit Vietnam
Wednesday, 20:55, 06/07/2022
VOV.VN - Prime Minister Pham Minh Chinh conveyed his invitation to Russian Prime Minister Mikhail Mishustin to visit Vietnam, during a meeting with Russian Foreign Minister Sergei Lavrov in Hanoi on July 6.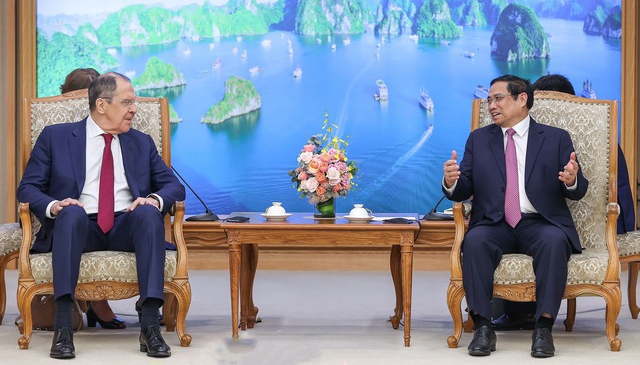 Chinh welcomed Lavrov's visit at a time when both countries are celebrating 10 years of their comprehensive strategic partnership this year.
He affirmed Vietnam always attaches great importance to the comprehensive strategic partnership with Russia and wishes to further promote bilateral cooperation in all fields.
Lavrov assured that Russia always considers Vietnam an important partner in the region and wishes to further strengthen cooperation with the Southeast Asian nation.
The two sides agreed to promote the implementation of high-level agreements reached during their leaders' visits, and to maintain the momentum of cooperation in traditional fields as well as other fields of their strengths.
PM Chinh requested that the two sides soon iron out snags in trade, investment, and transportation, make effective use of the free trade agreement between Vietnam and the Eurasian Economic Union, and support businesses of the two countries in expanding cooperation.
At the same time, he also suggested the two sides soon restore cooperation in culture, sports, tourism, education and training, people-to-people exchanges after the COVID-19 pandemic has been brought under control.
He encouraged the two sides to soon organize the 24th meeting of the Vietnam-Russia Intergovernmental Committee for economic - trade and scientific - technical cooperation in Vietnam.
Minister Lavrov shared Russia's position on Ukraine, and spoke highly of Vietnam's stance and its active and responsible contribution to peace, stability and cooperation in the region and the world.
He stressed the importance of settling disputes in the East Sea by peaceful means on the basis of international law, including the 1982 United Nations Convention on the Law of the Sea (UNCLOS). He expected an early conclusion of a Code of Conduct to deal with disputes in the regional waters.
PM Pham Minh Chinh took the occasion to thank the Russian Government for creating conditions for Vietnamese expatriates to live, do business and study stably in Russia, especially during the difficult period of the recent pandemic.
Russian Foreign Minister Sergei Lavrov flew to Hanoi on July 5 for a two-day visit to Vietnam to mark the 10th anniversary of the comprehensive strategic partnership between Vietnam and Russia.