Gov't supports Samsung's long-term investment plan in Vietnam
Friday, 17:10, 13/01/2023
VOV.VN - The government of Vietnam is committed to creating the best possible conditions for foreign investors, including those from the Republic of Korea, as well as Samsung, to do long-term business in the country, Deputy Prime Minister Le Minh Khai told Park Hark-kyu, President/CEO at Samsung Electronics.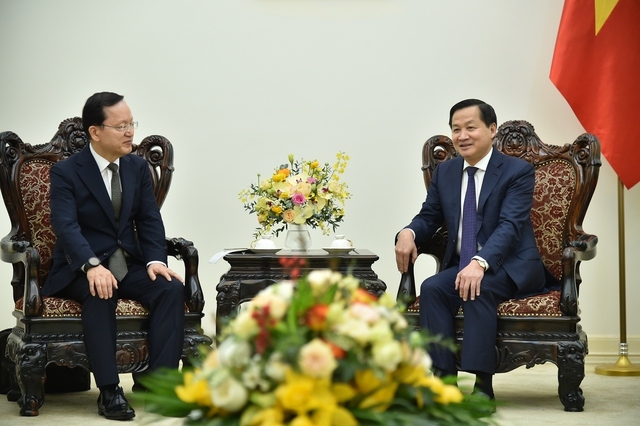 Receiving his guest in Hanoi on January 13, Khai appreciated Samsung recently inaugurating its research and development centre in Hanoi, saying this is an important basis for the RoK Group's sustainable and long-term development in Vietnam.
He singled out Samsung for its sound performance in 2022 as the group earned US$60 billion from exports, making a practical contribution to Vietnam's 730 billion trade last year – a record high figure in the country's import-export activities.
Samsung is a large economic group that has invested in Vietnam for years, creating jobs, supporting technology transfer, and promoting socio-economic development in the country, said Khai.
According to the Deputy PM, the RoK has already become Vietnam's Comprehensive Strategic Partner in all fields, especially in economy, trade and investment, paving the way for Samsung and other RoK businesses to expand investment in Vietnam in future.
He briefed his guest on Vietnam's priority areas of developing science-technology, innovation and digital transformation, and expected leading RoK businesses such as Samsung and LG will consider investing in these areas.
He told his guest the during his recent meeting with the CEO of the Semiconductor Industry Association of the US, both sides expected to develop Vietnam into an important link in the global semiconductor industry chain. As the semiconductor industry and the electronics industry have a close relationship with each other, the Deputy PM asked Samsung to evaluate its performance and continue to expand investment in Vietnam in the coming time.
CEO Park Hark-kyu for his part thanked the government and localities of Vietnam for supporting RoK businesses, including Samsung, saying the Vietnamese government has provided a lot of support for Samsung to operate effectively in recent times. He affirmed Vietnam holds an important position in Samsung's global business strategy.
During the meeting, the two sides also discussed a number of issues related to the application of the global minimum corporate income tax.
Regarding this issue, Khai said Vietnam established a special working group of the Prime Minister last year to examine and propose solutions related to the OECD's global minimum corporate tax rate.
The working group is formulating a legal framework for corporate income tax to ensure incentive policies for foreign investors in Vietnam will effectively be implemented, he said.