Belarus desires to develop strategic partnership with Vietnam
Thursday, 10:08, 23/06/2022
VOV.VN - Belarus views Vietnam as one of its priority partners in Asia and has high hopes of developing a strategic partnership, according to Belarussian Ambassador to Vietnam Vladimir Borovikov.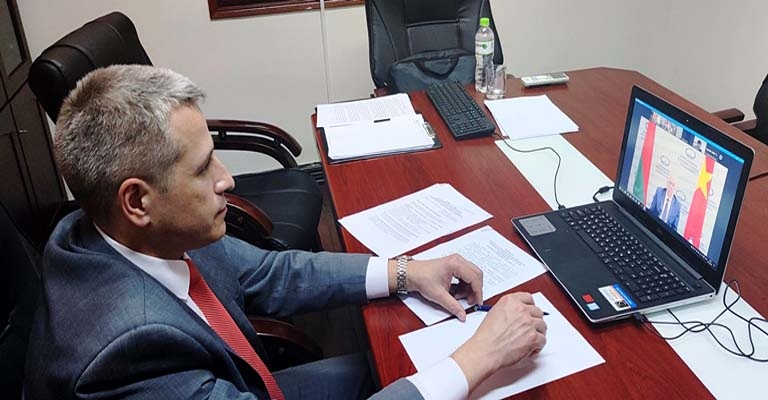 During an interview granted to the Belarussian Telegraph Agency BelTA on June 22, Ambassador Borovikov outlined that both sides have treasured a long-standing relationship, and this year marks 30 years of diplomacy between the two countries.
The diplomat went on to reveal that the Prime Minister of Belarus is expected to visit Vietnam this year, a move which will open a new chapter in the development of relations between the two countries.
According to the Belarussian Ambassador, two-way trade between Belarus and the nation last year hit a record high of US$200 million. Belarus mainly exports its trucks with popular brands such as Belaz and Maz and dairy products to Vietnam, while many Vietnamese products such as silk, seafood, tea, coffee, fruits, and electronics are popular with Belarussian consumers.
Ambassador Borovikov affirmed that industrial co-operation is a major pillar in bilateral relations, particularly as it focuses on establishing joint ventures and assembly plants, whilst simultaneously improving the goods distribution network.
He stated that the free trade agreement signed between the Eurasian Economic Union and Vietnam provides fresh impetus to promote economic and trade relations between the two countries. The removal of barriers has enabled Belarusian dairy products to penetrate the Vietnamese market.
He highlighted bilateral co-operation in education and science, and affirmed that the Embassy will seek to support Belarussian higher education institutions to establish co-operative relationships with their Vietnamese partners.
Recently, the Belarusian State Academy of Music and the Vietnam National Academy of Music signed a co-operation agreement which opens up the prospect of taking their relationship to fresh heights.
Currently, the two sides are considering the possibility of opening up direct flights in order to facilitate trade and tourism.
At the end of the interview, Ambassador Borovikov expressed his firm belief that  there will be great cooperation prospects for the two countries, helping to build a more dynamic Belarus-Vietnam relationship moving forward.