ASEAN and US seek to expand strategic partnership
Wednesday, 12:18, 11/05/2022
VOV.VN - ASEAN and the Unites States are scheduled to hold a special summit in Washington D.C. on May 12 - 13 to mark 45 years of relations and to chart a future course for its strategic partnership over the coming years.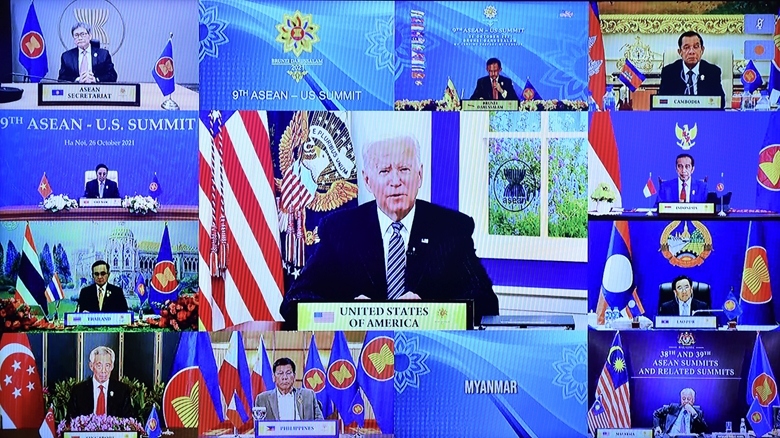 Wide range of co-operation areas
Both sides initially established dialogue relations in 1977 and lifted their relationship to the level of strategic partnership in 2015. Over the past 45 years, this relationship has evolved from an exchange of views on political and security issues to a wide range of co-operation areas across the three Community pillars.
The US has engaged with the bloc in political-security matters through their active participation in the ASEAN Regional Forum (ARF), ASEAN Defence Ministers' Meeting Plus (ADMM-Plus), and the East Asia Summit (EAS). Areas of mutual interest cover areas such as maritime security, cyber security, and combatting transnational crime, including terrorism and trafficking in persons (TIP), among others.
In terms of economic co-operation, the US remains an important trading partner of ASEAN, with total two-way trade in 2020 reaching US$308.3 billion, making it the second largest trading partner of the bloc among Dialogue Partners. The US is also the group's largest external source of foreign direct investment (FDI), with a total inflow amounting to US$34.7 billion (statistics in 2020).
The ASEAN Economic Ministers-US Trade Representative (AEM-USTR) Consultations and ASEAN Senior Economic Officials-Assistant USTR (SEOMAUSTR) Consultations are held annually in a bid to promote trade and investment flows between both sides, as well as offering a platform to exchange views on a range of economic issues.
Both sides will continue to intensify their trade and investment ties through the implementation of the 2021 to 2022 ASEAN-US Trade and Investment Framework Arrangement (TIFA) and the Expanded Economic Engagement (E3) Work Plan, as endorsed by the ASEAN Economic Ministers and the US Trade Representative Consultations (AEM-USTR Consultations) in September, 2021.
With regard to socio-cultural co-operation, ASEAN and the US are working together in a number of areas, including disaster management, promotion, and protection of the rights of women and children, as well as education and youth.
Both sides have agreed to increase cultural exchanges and people-to-people connectivity through initiatives such as the Young Southeast Asian Leaders Initiative (YSEALI), the Fulbright US-ASEAN Visiting Scholar, and the US-Science Prize for Women. This is in addition to as the ASEAN Youth Volunteer Programme and Connecting the Mekong through Education and Training (COMET).
Collaboration has been stepped up in the fight against COVID-19 through a series of high-level engagements and initiatives. Notable efforts include the US donating US$500,000 to the COVID-19 ASEAN Response Fund, the inauguration of the Centers for Disease Control and Prevention (CDC) Regional Office in Hanoi (Vietnam), as well as a pledge of an additional US$194 million in COVID-19 related assistance for the region.
The US has so far deployed two development co-operation programmes with ASEAN, namely the Inclusive Growth in ASEAN Through Innovation, Trade and Commerce (IGNITE), and the ASEAN-USAID Partnership for Regional Optimization within the Political-Security and Socio-Cultural Communities (PROSPECT).
Acting for mutual benefits
According to Pham Quang Vinh, former Vietnamese Ambassador to the US, the global superpower places great importance on the Asia-Pacific region, including ASEAN, and is therefore keen to strengthen co-operation with ASEAN to benefit the US in terms of geopolitics and economic interests.
With regard to peace and security, the bloc plays a central role in the region and holds a highly important position in the multilateral process as it seeks to create an environment of peace, stability, and co-operation only between Southeast Asian countries, but also with other important partners on the basis of compliance with international law.
Expanding co-operation in economics and in responding to traditional and non-traditional security challenges are matters of US concern, and Washington is currently pouring more investment into the Asia-Pacific region than elsewhere.
The most-pressing emerging issue is how to overcome the COVID-19 pandemic and recover the economy, whilst continuing to develop and maintain a stable, peaceful, and cooperative environment, says Vinh. Other issues to be addressed are those related to the East Sea, freedom of navigation, and trust building. 
Co-operation between the bloc and the US, as well as with other partners such as China, India, Japan, and the Republic of Korea are very practical for the group itself, helping it to take advantage of resources, whilst simultaneously bringing benefits to the US, according to the diplomat.
Given the changing geopolitical landscape both regionally and globally, Vinh expresses his belief that a vision statement to be adopted at the Washington D.C. summit will take the joint strategic partnership to another level commensurate with both the comprehensive and strategic nature of this relationship.