Congratulations extended to Laos on 46th National Day
Thursday, 13:24, 25/11/2021
Vietnamese Consul General in Luang Prabang Nguyen Dang Hung on November 25 led a delegation to visit the Party Committee, authorities and people of Luang Prabang province to offer greetings on the occasion of the 46th National Day of Laos (December 2, 1975 - 2020).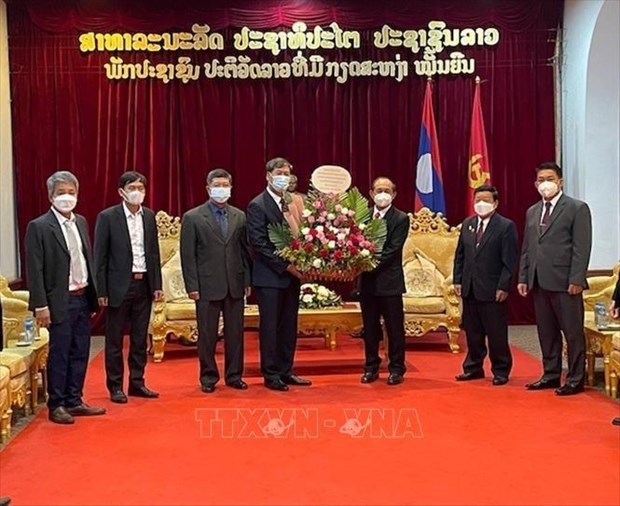 Consul General Hung congratulated the Party Committee, authorities and people of Luang Prabang province on great achievements across fields of politics, security, socio-economic development, culture and education over the last 46 years, which have contributed to the country's national construction and defence, and development.

He highly valued close cooperation and twining relationship between Luang Prabang province and many Vietnamese localities, expressing his belief that those relations will continue to be stronger in the future.

Hung stressed that the Vietnamese Consulate General in Luang Prabang has been and will continue to contribute to strengthening cooperation and twinning relationship between Luang Prabang and Vietnam's localities, contributing to fostering the great friendship, special solidarity and comprehensive cooperation between the Party, State and people of the two countries.

For his part, Secretary of the Party Committee and Governor of Luang Prabang Khamkhan Chanthavisouk expressed his deep gratitude to the Party, State and people of Vietnam for their great support for the Party, State and people of Laos in general and Luang Prabang province in particular.

He also thanked the Vietnamese Consulate General for its support for the locality, especially in fighting the COVID-19 pandemic in recent times.

Khamkhan Chanthavisouk wished to continue to receive effective cooperation and assistance of the Consulate General to further promote cooperation between Luang Prabang and Vietnamese localities in the coming time.