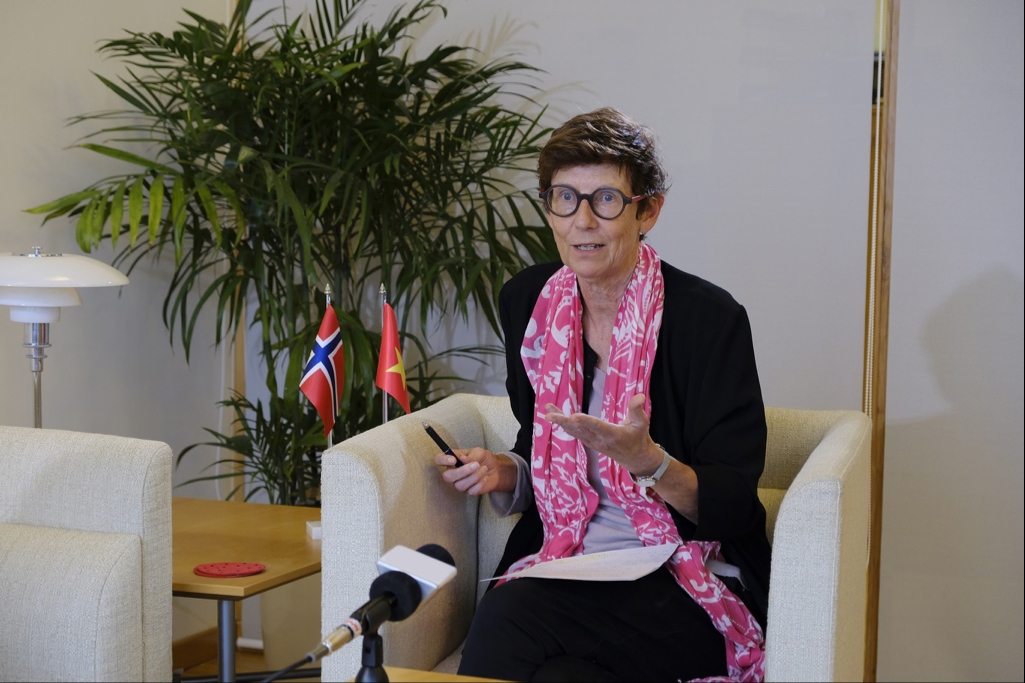 On this occasion, from Oslo, Ambassador Grete Lochen gave an online interview to the Dai Bieu Nhan Dan (People's Deputies) - the newspaper of the Office of the National Assembly of Vietnam.
Q: First of all, congratulations Norway on being selecting as AIPA Observer, can you share with us your thoughts/feeling about this?
A: We are very satisfied and honoured that the Norwegian parliament, the Storting is granted observer status to AIPA at this year's session in Hanoi. As the Norwegian Ambassador to Vietnam I'm of course particularly
pleased that this happens under the  AIPA chairmanship of Vietnam. The Storting has participated actively as a special guest of the host country at the AIPA General Assemblies in Singapore (2018) and Bangkok (2019), underlining  both in the opening sessions and in bilateral meetings with all ten ASEAN delegations, the importance for Norway of the ASEAN and AIPA cooperation.
Q: What does this milestone mean to Norway-ASEAN and Norway-Vietnam relations in the time to come?
A: The observer status in AIPA is another milestone in the relations between Norway and ASEAN and of course between Norway and Vietnam. It really shows that we have common interests in broad institutional cooperation at different levels despite geographical distances between Norway and the ASEAN countries. Norway is a strong supporter of Asean and is celebrating its 5 years' anniversary as a sector dialogue partner with Asean this year.  We have over the years enjoyed an extensive exchange of political visits and meetings within the ASEAN framework as well as bilaterally with the ASEAN member states.
Together, ASEAN and Norway have developed a dynamic cooperation in areas of mutual interest, such as sustainable development, climate change, renewable energy, healthy ocean environment, as well as peace and security and international trade. Norway's trade with the ASEAN countries has tripled over the last decade.
Next year Norway will be celebrating 50 years of diplomatic relations with Vietnam. I am happy to see this relationship evolving throughout these years from a traditional development cooperation to now a phase of equal partnership based on trade and investment as well as cooperation at the multilateral level. Next year Norway and Vietnam will have one year together in the UN Security Council. Dealing with the COVID-19 pandemic is another area where international and multilateral cooperation is more important than ever. Our two countries have many similarities as we are both coastal nations. Ocean truly connects us. We need to develop our ocean related industries in a safer, greener and more sustainable manner. We also see the need for addressing the severe plastic pollution in the oceans to keep them healthy for our children and generations to come.  A stronger cooperation between AIPA and the Storting will of course add an important parliamentary dimension to all these important policy areas.
Q: What does Norway plan to contribute to the cooperation with AIPA in the coming time as AIPA observer?
A :Norway has a long parliamentary tradition based on a Constitution of more than 200 years. The Norwegian parliament, the Storting has a strong emphasis on this tradition in its inter-parliamentary dialogue and cooperation with other parliaments and inter-parliamentary assemblies. In a closer cooperation with AIPA Norway would focus on how to mutually strengthen key functions as parliamentarians. 
Likewise in its inter-parliamentary cooperation with AIPA, the Storting hopes to strengthen the parliamentary roles in realizing common community values and sustainable development goals. They will do this on very specific policy issues where Norway and ASEAN are already cooperating closely such as on marine pollution, ocean management, blue economy, renewable energy, peace and security, and gender equality.
The Storting also hopes through its cooperation with AIPA to strengthen the multilateral agenda. This is a goal that is essential both to Norway and ASEAN, and where the Storting and AIPA can contribute with important messages of common support. Together, the Storting and AIPA can underline their mutual interest in fulfilling the Sustainable Development Goals, strengthening multilateral institutions and cooperation and upholding the rules based international trading system.
A: Thank you very much Ambassador!