Top 10 must-visit venues in HCM City during lunar New Year holiday
Monday, 10:34, 31/01/2022
VOV.VN - There are 10 leading entertainment venues in Ho Chi Minh City, the largest metropolis in Vietnam, where you can visit for lunar New Year celebrations.
1. Caligraphy Street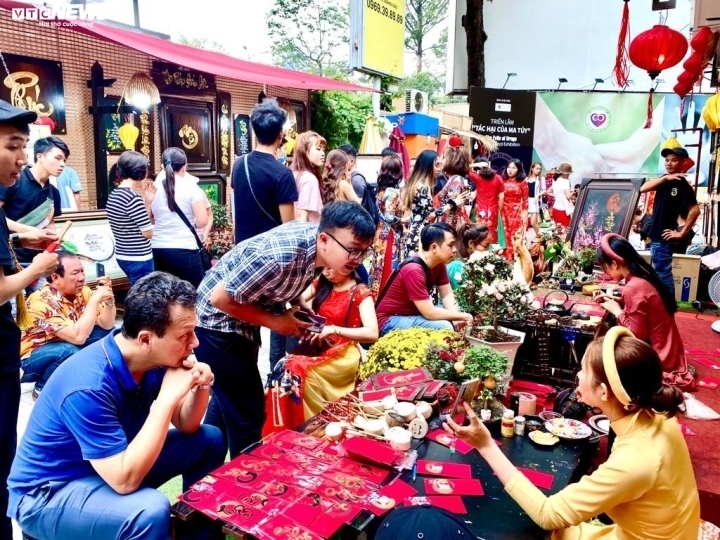 Located at the Youth Cultural House in District 1, Ong Do Street (street of calligraphers) is always a must-see destination. An old space imbued with the traditional cultural identity during the lunar New Year holiday (Tet) is recreated in the heart of the modern city, where revelers can ask calligraphers for special Nom scripts symbolizing happiness, luck and prosperity in the new year.
2. Nguyen Hue Flower Street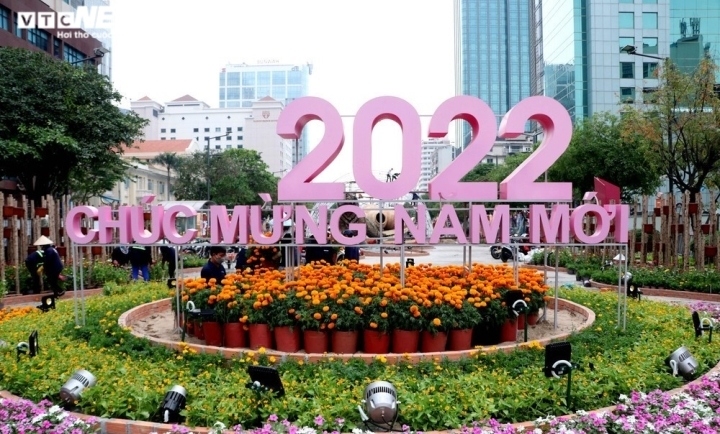 Also located in District 1, Nguyen Hue flower street is another must-visit venue for revelers during the Tet holiday. The pedestrian street named after national hero Nguyen Hue is adorned with varieties of flowers brought from various flower gardens in the south. This is one of the ideal places for local people and tourists alike to visit to take photos every Tet holiday in the city.
3. Tao Dan Spring Flower Festival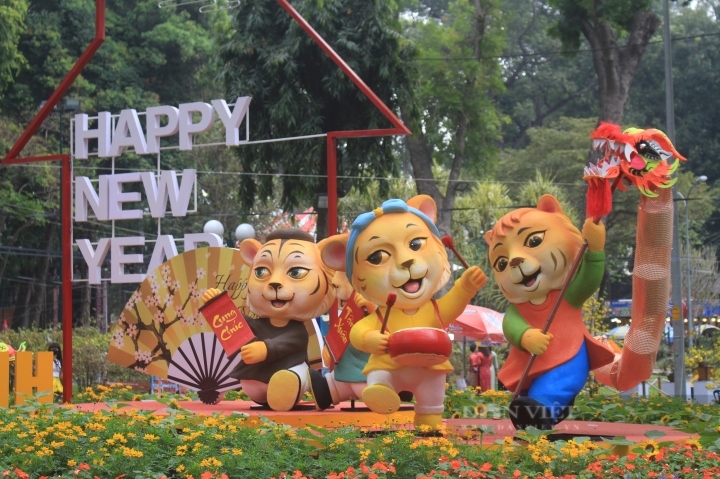 Every year, the Tao Dan Spring Flower Festival in District 1 is always a destination that attracts many residents and tourists on the traditional Tet holiday. The market introduces thousands of varieties of flowers that are in full bloom in spring, along with ornamental trees and artefacts for Tet decorations. Admission is free.
4. Phu My Hung Spring Flower Festival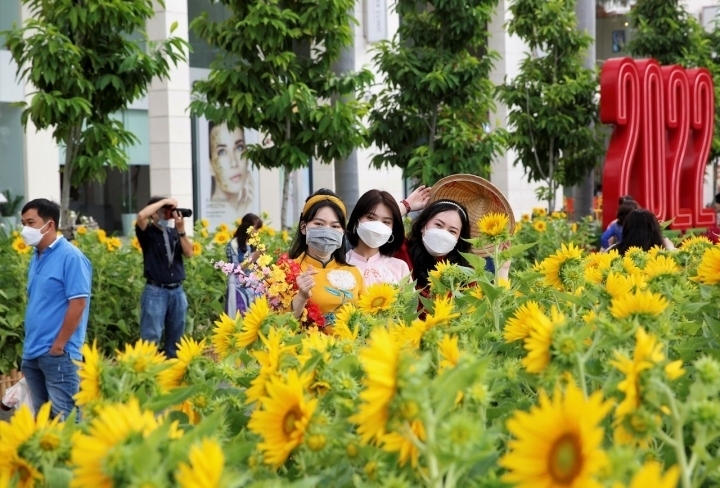 The Phu My Hung Flower Festival in District 7 which has been held for the past 11 years is a another must-visit place for it creates a unique, vivid and different scene each year. This year, the festival winding around the Crescent Lake conveys the year's decorative themes, recreating the Tet space from many regions across the country.
5. Bui Vien backpacker street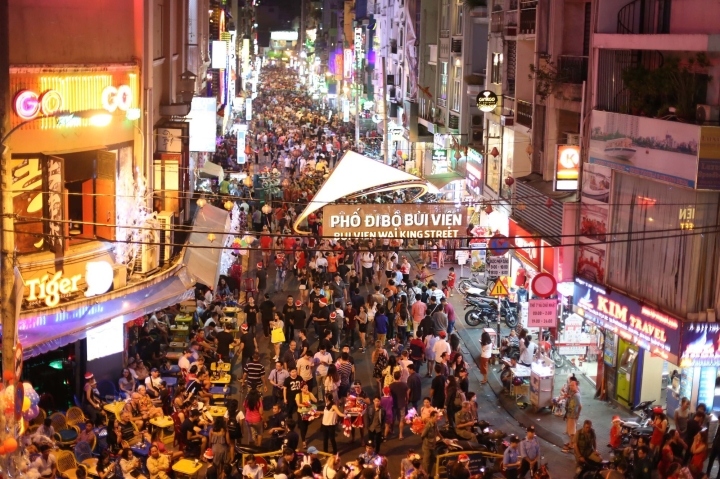 On the traditional New Year days, Bui Vien Street in District 1 dubbed backpacker street is a favorite place for young people in Saigon. Though it is not as crowded as during the New Year holiday, the street is still an attractive place for young people and their friends to gather on spring days. On the traditional New Year days, Vietnamese folklore activities will be performed in the style of Western European street art.
6. Dam Sen Cultural Theme Park
The Dam Sen Cultural Theme Park in District 1 is an interesting place for local residents, especially young people, to enjoy special Tet celebrations. The park offers a variety of cultural and artistic activities, including dances and songs, fashion shows, tours of special flower gardens, to visitors.
This year, the municipal Confederation of Labour will Confederation will organize a special Tet programme for about approximately 10,000 families of workers who cannot return to their hometowns for Tet. Families will enjoy free entrance tickets, free meals and games at the site.
7. Suoi Tien Cultural Amusement Park
Going to the Suoi Tien Cultural Amusement Park in Thu Duc City, visitors will have the chance to enjoy the natural scenery and see many rare species of animals. Visitors can also immerse themselves in the aquatic palace featuring hundreds of fish species swimming in the glass cellar.
Spiritual works at the site including Buddha statues are for visitors to pray for peace and happiness in the new year.
8. September 23 Park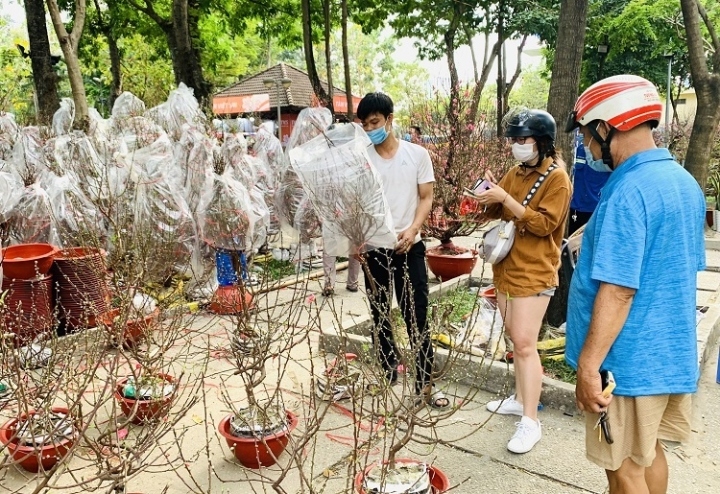 With a prime location, September 23 Park in District 1 has become a familiar entertainment destination for locals and visitors over the years.
The park is one of the largest Spring Flower Markets in HCM City with 800 stalls displaying thousands of varieties of flowers from across the country. Especially peach blossoms transported from the north are among the favourites with local people this year.
The site is also an attractive destination with many cultural performances throughout the lunar New Year holiday.
9. Book Street Festival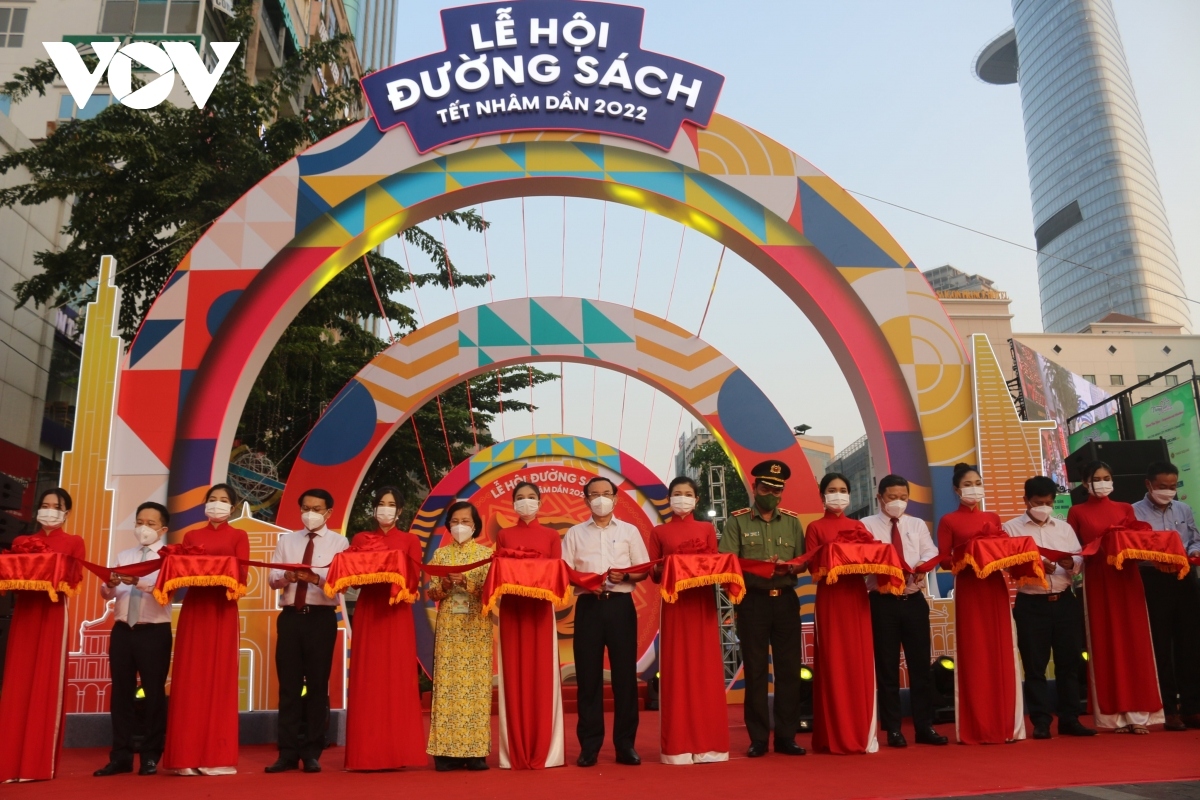 The Book Street Festival is taking place from 6pm on January 29 to 10pm on February 4 on Mac Thi Buoi, Nguyen Hue and Ngo Duc roads.
On Nguyen Hue road, an exhibition will be held to display publications, documents and photos about the Communist Party of Vietnam on its 92nd founding anniversary (February 3), as well as publications, documents and images of Ho Chi Minh City in its COVID-19 fight in 2021.
Mac Thi Buoi road displays books with a variety of genres and rich topics, especially those on health care. A space of audiobooks - a growing trend in the world, including Vietnam - is also set up here.
10. Anh Sao (Starlight) Bridge
Instead of going to the places mentioned above, you can go to Anh Sao (Starlight) Bridge in District 7 in the evening to enjoy the shimmering and fanciful lights and take pictures together.
The bridge is equipped with a system of LED lights representing the sparkling stars stretching along both sides of the structure. From a distance, the bridge looks like a galaxy with thousands of shining stars.
It is an ideal place for many young people though it is a bit far from the city center.