Webinar seeks ways to increase Australian investment in Vietnam
Wednesday, 18:47, 22/12/2021
VOV.VN - Australian investment in the nation remains modest and fails to match the potential and strategic co-operation between the two countries, experts stated at a webinar held on December 22 aimed at improving Australia's foreign direct investment (FDI) in Vietnam.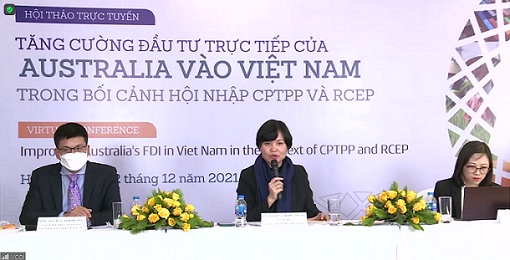 Dr. Uwe Kaufmann of the Australian Business Institute attributed these limitations to the fact that Australian investors continue to lack information about market, policy, and law systems, as well as the local business climate.
Nguyen Thi Thu Trang, director of the Center for World Trade Organization (WTO) and Integration under the Vietnam Chamber of Commerce (VCCI) underlined the importance of capitalizing on free trade agreements (FTAs) such as the  Comprehensive and Progressive Agreement for Trans-Pacific Partnership (CPTPP) and Regional Comprehensive Economic Partnership (RCEP) and ASEAN Plus. 
Trang noted that the FTAs have contributed to laying a foundation to strengthen co-operation in trade and investment between both sides and attract greater foreign direct investment (FDI) from Australia.
In fact, FDI inflows from the Australian market to Vietnam have remained modest, with Australia ranking 19th among countries investing in the Vietnamese market with just 455 FDI projects.
The majority of FDI projects from this country tend to focus on fields such as processing and manufacturing, services, and high-tech agriculture. In addition, projects on agricultural field have helped improve the general technology level of Vietnamese agricultural.
Simon Pugh, an investor from Australia, pointed out that despite advantages in terms of abundant human resources, reasonable labour costs, geographical proximity, and political stability, Australian businesses are not particularly keen on investing in the country due to complicated investment procedures and a lack of information about the Vietnamese market.
During a recent survey on Australian firms, Dr. Kaufmann revealed that approximately 48% of respondents think that Vietnamese market has great potential and will consider investing in the near future, while roughly 47% respondents think that the market is not attractive enough for investment.
Dr. Kaufmann therefore emphasized the need to accelerate reforms in both the public and private sectors to ensure a friendly business climate for investors from Australia, while effectively implementing commitments within FTAs in order to attract greater Australian investment.