Webinar looks to bolster Hong Kong-Vietnam partnership amid COVID-19
Tuesday, 19:28, 21/09/2021
A webinar entitled "Revival under the 'New Normalcy': Hong Kong-Vietnam Partnership" was held recently to seek ways to bolster trade cooperation and investment between Vietnam and Hong Kong (China).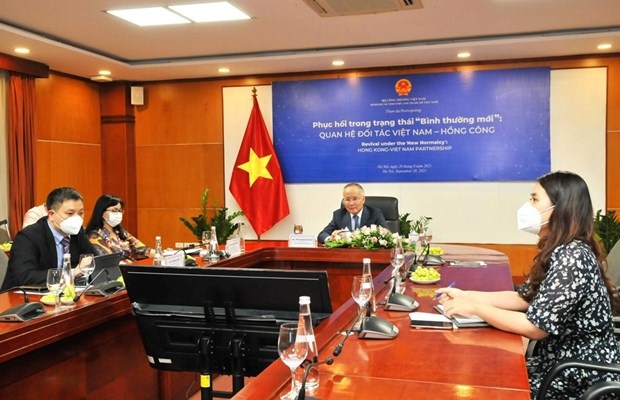 The event, jointly held by the Ministry of Industry and Trade of Vietnam and the Commerce and Economic Development Bureau (CEDB) of Hong Kong, was to help businesses of the two sides connect, find cooperation chances and ease negative impacts of COVID-19.

Speaking at the event, Deputy Minister of Industry and Trade Tran Quoc Khanh underlined that the holding of the webinar amid the COVID-19 pandemic is necessary to share difficulties and seek solutions and orientations to support trade and investment activities of Vietnamese and Hong Kong firms.

Hong Kong is an important partner of Vietnam and the two sides have ample room to step up cooperation and tap on advantages of each economy in the coming time, especially advantages Vietnam has gained from free trade agreements and its population of 100 million people, Khanh said.

In a bid to further support the business communities of both sides, particularly Vietnamese firms, to quickly recover and capitalise on chances in the "new normalcy", he suggested Hong Kong sign an agreement on enhancing the Vietnam-Hong Kong cooperation and ease visa requirements for investors and entrepreneurs from Vietnam.

At the event, participants discussed and shared business opportunities at the markets of Vietnam and Hong Kong, along with the transition role of Hong Kong for Vietnam's exports, and introduced promotion policies, new technologies and information platforms serving businesses of the two sides.

They also put forward information technology applications for coping with COVID-19 and taking advantages of business chances in Vietnam, Hong Kong and the Greater Bay Area (GBA), which comprises Guangdong, Hong Kong and Macau.

Hong Kong is currently the seventh largest trade partner of Vietnam.

In the first eight months of 2021, two-way trade turnover hit US$8.4 billion, rising 16% compared to the same period last year. Vietnam shipped products worth US$7.4 billion to Hong Kong, up 12.2%.

In terms of investment, as of the end of August, investors from Hong Kong had registered to pour more than US$27 billion into Vietnam in such fields as manufacturing and processing, energy, garment-textile, footwear and real estate.