VinFast receives US$1.2 billion incentive package for EV factory in US
Friday, 17:12, 15/07/2022
VOV.VN - Vietnamese automaker VinFast has unveiled that it has secured a US$1.2 billion incentive package from the State of North Carolina to be used specifically for its electric vehicle (EV) manufacturing project in the US' southern state.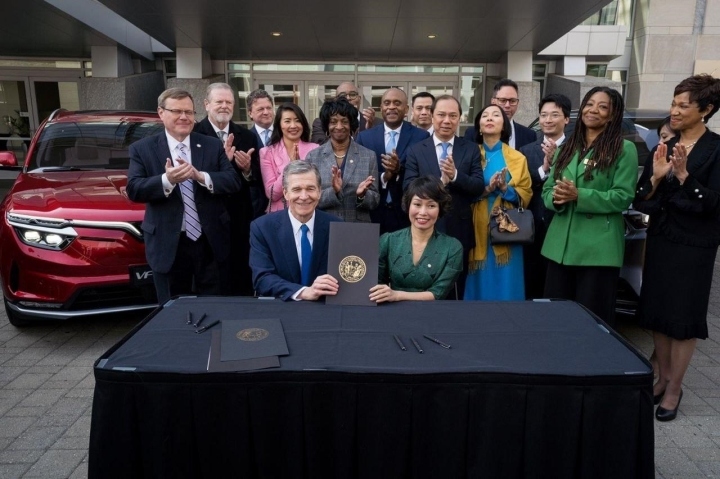 The economic incentive package, which has been signed by Governor Roy Cooper, represents the largest ever in the history of the State of North Carolina and will turn VinFast's factory into the first EV production facility in North Carolina.
Most notably, the company's EV factory will be built at Triangle Innovation Point industrial park in Chatham county in North Carolina and will feature a total investment of roughly US$2 billion in the first phase.
Covering a total area of ​​​​roughly 800 hectares, the factory consists of an area used for manufacturing, assembling electric cars and buses, and an auxiliary industrial park for suppliers.
Boasting a capacity of 150,000 vehicles per year, the factory is anticipated to create an ecosystem of suppliers whilst simultaneously generating thousands of local jobs when the site is put into operation.
Governor Cooper said that the partnership between North Carolina and VinFast in generating jobs in the field of clean energy development represents another important step forward.
He added that electrified vehicles such as the EVs that VinFast will manufacture in Chatham county will play a crucial part in its strategy of reducing greenhouse gas emissions and developing the state into a hub for the clean energy economy moving forward.
Nguyen Thi Van Anh, chief executive officer at VinFast Manufacturing US, LLC, said the firm has highlighted North Carolina's efforts and determination in promoting the clean energy economy, as well as fulfilling greenhouse gas emission reduction goals in the region.
The State's incentive package incentive for VinFast will therefore be the starting point for a future driven by innovation, strong economic growth, and job generation, she said, noting that the move clearly demonstrates how governments and firms can unite for a better future.
As scheduled, construction on the first phase of the project will commence in the second half of the year and is likely to be put into production as of July, 2024.
Moreover, the Vietnamese firm has also received financial support from the City of Sanford, Chatham county, and the Golden Leaf Foundation. The total incentive package will include a US$316 million grant specifically for job development for over 32 years, a US$450 million funding from the State's budget for infrastructure improvement, and a US$38 million grant for vocational training support.
Meanwhile, Golden Leaf Foundation and Chatham county will provide the company with a preferential package of US$50 million and US$400 million, respectively
VinFast has also received funding worth hundreds of millions of US$ from commercial organisations in North Carolina which are excluded from the government budget.