VinFast officially launches US headquarters in Los Angeles
Wednesday, 19:57, 17/11/2021
VinFast, a smart electric vehicle (EV) manufacturer from Vietnam, officially put its headquarters in the US into operation on November 16 (local time).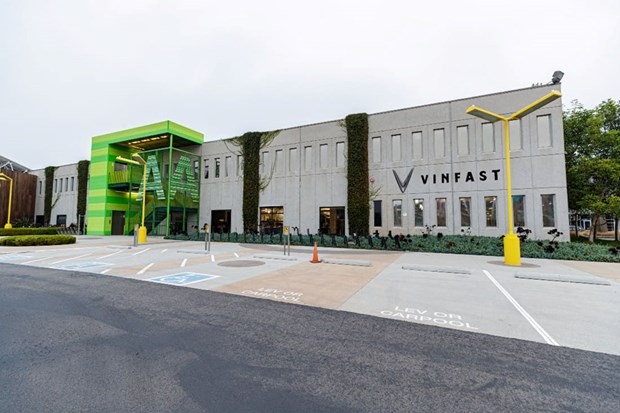 VinFast's headquarters is located in the Playa Vista region which is dubbed the "Silicon Beach" of Los Angeles – the home to many technology companies.

Los Angeles and California state are also promoting their commitment to greening the transportation system, and this is a favourable condition for VinFast to realise its goal of becoming a global smart electric vehicle maker.

Mayor of Los Angeles Eric Garcetti said Los Angeles is the world's transportation innovation capital, where companies often choose to test and introduce new technologies.

The city is continuing to be at the forefront of making transport better, cleaner and more sustainable, he said.

Nguyen Thi Van Anh, CEO of VinFast US, said California in general and the Southern California region in particular are rapidly becoming the epicenter of the revolution in the transportation industry, where innovative ideas, talented and determined workforce to accelerate the electrification of vehicles are gathered.

She thanked Governor of California state Gavin Newsom and Mayor Garcetti for their great support for VinFast.

Along with setting up the headquarters, VinFast US will open its offices, customer service centres, and a network of showrooms and service workshops in order to introduce electric vehicles to American consumers, and promote its future investment plans.

Previously, on November 5, the California Governor's Office of Business and Economic Development (GO-Biz) announced that it grants VinFast US$20.5 million worth of tax credit after the firm committed to investing more than US$200 million in establishing its US subsidiary in the state and creating at least 1,065 full-time jobs for local labourers.

The granted sum comes from the California Competes Tax Credit (CCTC) – an income tax credit available to businesses that want to locate or stay and grow in California.

Recently, VinFast, established in 2017, has announced its plan for the global debut of VF e35 and VF e36 electric SUV models at the 2021 Los Angeles Auto Show, which runs from November 17 to 28.
This global premiere marks the official introduction of the VinFast electric vehicle brand to the North American market, with pre-order beginning in the first half of 2022.