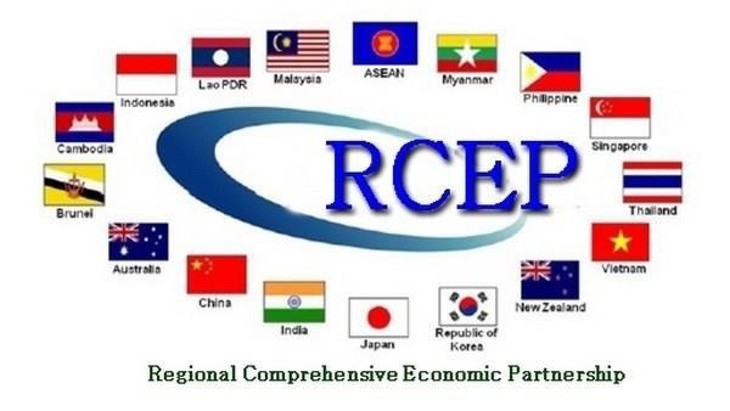 The agreement will create opportunities for Vietnamese businesses to boost exports, participate in new value chains in the region, and attract more foreign investment.
Soon after RCEP takes effect, members will begin to honor their commitments on tariffs. Vietnam and its partners will remove tariffs on at least 64% of tariff lines.
After 15 to 20 years, Vietnam will have removed 89.6% of tariff lines for partner countries which, in return, will have removed up to 92% of tariff lines for Vietnam. Other ASEAN members will remove 85.9% of all tariffs for Vietnam.
Telecommunications, information technology, machineries, spare parts, chemicals, and agricultural products will immediately benefit from the deal.
Economist Vo Tri Thanh said, "First, the agreement will benefit consumer sectors like tourism, education, entertainment, healthcare, and retail because RCEP is a large market with a huge purchasing power of the middle class. Second, the area is very attractive to investors, which has been proven during the COVID-19 pandemic. Third, investment in value chain networks and logistics systems will create an opportunity for the support and service industries."
Aquatic products will be one of the sectors that can compete in the markets of RCEP partners.
The commitments by China, Japan, New Zealand, Australia, and other ASEAN countries to reduce tariffs to 0% as soon as the agreement takes effect will open up new opportunities for Vietnam to increase export to RCEP markets.
Thanks to the RCEP Agreement's rules of origin, Vietnam's exports can enjoy preferential tariff treatment because the raw materials are mainly supplied by RCEP countries.
Nguyen Thi Quynh Nga, Deputy Director of the Multilateral Trade Policy Department of the Ministry of Industry and Trade, said, "What makes RCEP different from other free trade agreements is that it integrates pre-existing bilateral agreements between ASEAN and five of its major trade partners with regard to rules of origin."
"That means Vietnamese firms can use input materials from any RCEP country, including the 10 ASEAN countries and 5 partner countries, to produce goods and export them to any RCEP nation and enjoy preferential tariffs for meeting the rules of origin," she said.
Nguyen Thi Thu Trang, Director of the Center for WTO and Integration of the Vietnam Chamber of Commerce and Industry, said that, as a market of 2.2 billion people, RCEP encompasses almost all the production chains of Vietnam's most advantageous export items.
Vietnam imports materials from Japan and the Republic of Korea to manufacture electronics and from China and South Korea to produce garments and textiles. RCEP will provide the most tax incentives for Vietnamese exports.
This is the biggest difference between RCEP and other trade deals Vietnam has signed.
According to Trang, "RCEP's main benefits relate to the harmonization of rules of origin and tariffs. To make the most of the deal, businesses must study the rules of origin. The deal will create stronger competition in the domestic market and in the RCEP market. For example, China and Japan haven't signed an FTA yet, but through RCEP they will enjoy free trade, so our competition in the Japanese market will increase. Our direct competitors will include China, so Vietnamese businesses must increase their competitiveness in order to prosper."
RCEP will pressure Vietnamese exporters to compete with other Southeast Asian exporters, some of whom are strong in similar product categories, but it will create opportunities for Vietnam businesses to improve their competitiveness, products, and supply chains.
To that end, domestic businesses need to invest more in technology and management skills.