Vietnamese businesses updated on India's new foreign trade policy
Friday, 14:38, 07/04/2023
An online seminar on India's foreign trade policy in 2023 was held by the Vietnam Trade Office in New Delhi on April 5, attracting the participation of representatives from Vietnamese agencies and businesses, and researchers.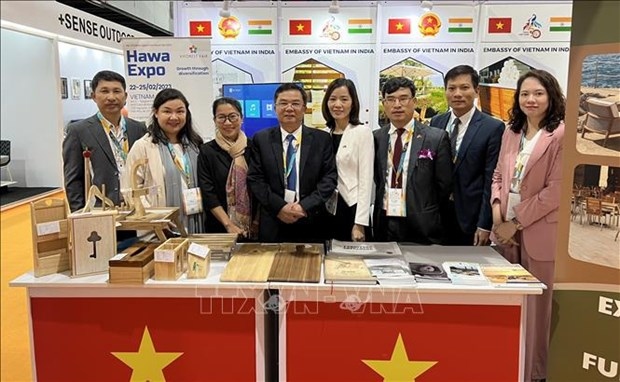 In late March, the Indian Ministry of Commerce and Industry's Directorate General of Foreign Trade (DGFT) announced the country's new foreign trade policy in 2023, which is an important policy that will have both short-term and long-term impacts on India's import and export activities.

Addressing the event, Bui Trung Thuong, Trade Counsellor of Vietnam in India, updated participants on information related to India's export situation in recent years and noteworthy highlights in the South Asian nation's new foreign trade policy.

Accordingly, India will implement supportive policies and simplify business activities by managing and granting licences online, reducing administrative procedures and costs related to the implementation of administrative procedures. The country will also evaluate exporters based on their total annual export values, thus determining tax and interest rate incentives.

The new trade policy of India includes strategies to promote exports of textiles and dairy products, encourage farmers to apply technologies tino production in order to improve the productivity and quality of products; develop a green economy with the goal of cutting emissions to net zero by 2070, and promote the production of technological products such as electric vehicles and water waste recycling.

Thuong stressed that Vietnamese businesses wishing to set up and enhance trade links with India can identify the demand of the Indian market through carrying out market research and analysis activities in states, districts and towns across the country.

The Vietnam Trade Office in India always accompanies and supports businesses in seeking and connecting with Indian partners, however, Vietnamese enterprises should also directly explore the market, he said.

Vietnamese enterprises operating in the fields of information technology and banking services can explore new opportunities for cooperation with India as the South Asian nation is emerging as a powerhouse of startups and innovation, Thuong noted.

India aims to earn US$2 trillion from exporting goods by 2030.

Two-way trade between Vietnam and India saw a yearly increase of 13.6% to US$15.05 billion in 2022, including US$7.96 billion worth of Vietnamese exports, up 26.8% year-on-year.