Vietnamese and French businesses seek to enhance trade links
Tuesday, 16:24, 03/05/2022
VOV.VN - Measures aimed at promoting greater investment and trade between Vietnam and businesses in France's Nice Côte d'Azur region were discussed during a recent seminar hosted by the Chamber of Commerce and Industry (CCI) of Nice Côte d'Azur.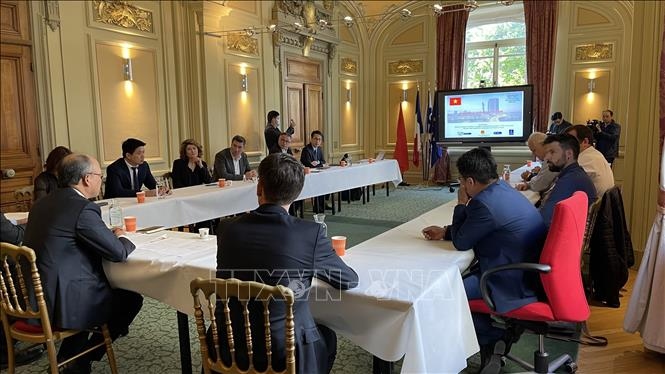 The event took place as part of the working visit to Nice by Vietnamese Ambassador to France Dinh Toan Thang.
The business seminar held at CCI Nice Côte d'Azur also represents one of the first bilateral direct investment economic exchange activities launched following the official visit to France by Prime Minister Pham Binh Minh Chinh in November, 2021.
The event served to provide both enterprises with specific and useful information regarding the Vietnamese business environment and investment incentives, opportunities, and potential for import-export activities between both sides. It was also a chance to disseminate regulations and devise a roadmap for import tax reduction for products within the framework of  the EU-Vietnam Free Trade Agreement between (EVFTA).
Furthermore, the purpose of the function is to fully tap into the potential that exists and create greater co-operation opportunities for connecting firms of the two countries in the Nice Côte d'Azur region in terms of investment and trade.
As part of his address, Ambassador Thang said that the presence of a large number of businesses in Nice represents a clear demonstration of the desire for stronger economic co-operation between the two countries, as well as the Nice Côte d'Azur region. This comes amid the two governments gradually reopening all activities after the outbreak of the COVID-19 pandemic over the past two years.
France currently represents the country's second largest foreign investment partner in the EU with more than US$3.6 billion in total registered capital, with this finance mainly coming in the manufacturing and real estate sectors.
However, France holds several advantages in the fields of telecommunications, renewable energy, the environment, biomedical, manufacturing industry, agricultural products, infrastructure, and logistics. Indeed, these fields are very suitable with Vietnamese orientation for foreign investment attraction.
Despite bilateral economic co-operation achieving encouraging results, Ambassador Thang said that it is still far from matching the two sides' full potential for broader co-operation.
He expressed his hope that with an increasingly synchronous legal corridor, combined with socio-economic development achievements, cooperation between both nations, as well as with the city of Nice Côte d'Azur will make stronger breakthroughs, both in terms of investment as well as in terms of quantity and quality.
The Ambassador therefore pledged his best effort to enhance the role serving as a bridge connecting the two countries' enterprises and regional partners to boost co-operation for sustainable development towards success and efficiency.
During the seminar, French businesses raised questions and sharing their concerns and desire to step up market development in the Vietnamese market via a number of projects relating to clean agriculture, innovation, and co-operation in the field of agriculture, pharmaceuticals, cosmetics, healthcare, and tourism.
Moreover, businesses of both sides expressed their strong support and belief for co-operation opportunities between the two countries in the context that the COVID-19 pandemic is gradually being brought under control.
French firms also hailed Vietnamese socio-economic development achievements, especially efforts to improve institutions and policies.
The positive signs relating to the constant growth of bilateral trade turnover between the two countries will be the driving force for co-operation and investment relations which are also growing steadily, they stated.