Vietnam rakes in more than US$3.1 billion from exports to Cambodia
Monday, 11:52, 27/09/2021
VOV.VN - The nation earned US$3.15 billion from exporting goods to the Cambodian market during the opening eight months of the year, representing an annual rise of 16.7%.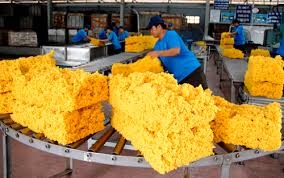 Despite this growth, the country ran a trade deficit of USS354.4 million with the neighbouring country throughout the reviewed period.

One of the main reasons behind the trade deficit was increases in import turnover of six main products from the Cambodian market compared to the same period from last year, with imports of cashew nuts and rubber witnessing the highest rises.

Furthermore, the country also spent approximately US$1.83 billion on importing cashew nuts from Cambodia in the first eight months of the year, representing a 7.1-fold increase on-year. In addition, Vietnamese rubber imports from the neighbouring country stood at 5.3 times higher compared to the figure from the same period last year, hitting US$821.8 million.
Vietnamese registered investment in Cambodia reached over US$2.85 billion, primarily in agriculture, including cashew and rubber planting.

Vietnamese businesses also invested in Cambodia as a means of taking advantage of cheap labour costs and favourable conditions in terms of land, climate, and incentives, before also exporting their products back to the nation.

As a means of balancing the trade value with Cambodia, the country is striving to promote processing as a means of improving the added value of export goods, increasing yields and quality of cashew and rubber, whilst also seeking to expand export markets for cashew nuts and rubber products.

Close attention should therefore be paid to strictly controlling the import of these goods in order to ensure origin rules whilst simultaneously intensifying inspection of commodities exported to the country through Cambodia.