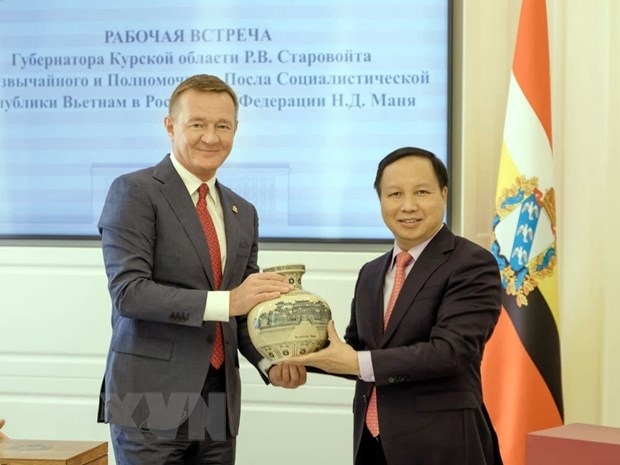 This comes after Ambassador Manh and his delegation recently paid a working visit to the provinces of Kursk and Bryansk, located southwest of Moscow, with the primary aim of ramping up co-operation between the nation and Russian localities.
The Vietnamese diplomat, alongside the Governor of Kursk province Roman Starovoit, expressed their elation at seeing the mutual comprehensive strategic partnership incessantly strengthen and develop in recent times.
The leader of Kursk told the visiting Vietnamese delegation that trade turnover between the Russian province and Vietnam reached US$30 million last year, while also calling on Vietnamese businesses to increase their investment in potential fields, including agriculture and tourism.
During the course of the meeting, Governor of Bryansk province Alexander Bogomaz informed those in attendance about ongoing socio-economic development in the province, stating that positive growth was maintained despite the negative impact of the COVID-19 pandemic.
The Governor then thanked Ambassador Manh and relevant agencies for their efforts in promoting ties between businesses from both countries, especially within the agricultural sector, with a prime example being Miratorg Group exporting meat to the Vietnamese market.
At present Miratorg accounts for roughly 60% of total Russian meat volume exported to the nation.
In response, Ambassador Manh affirmed the country's recognition of the huge importance placed on economic, trade, and investment co-operation with various Russian localities, especially as bilateral trade witnessed growth of 8% to close to US$5 billion despite the COVID-19 pandemic.
The opening two months of the year witnessed two-way trade turnover increase by more than 30% to close to US$800 million, with Vietnam representing the largest market and accounting for approximately 45% of total Russian meat exports.
Despite these positives, Ambassador Manh added that there are still many products that are strengths of each respective country, although they have not yet penetrated each other's market. This can be put down to a range of difficulties and barriers, including trade remedy measures, or alternatively epidemiology and hygiene requirements.
The Vietnamese diplomat noted that he is delighted to witness Kursk province reach a co-operation agreement with its sister province of Ninh Thuan, adding his thanks to the two local administration of Russia for creating the best conditions for the Vietnamese community to enjoy stability as a way of boosting the general development of the area.
During the course of his visit, Ambassador Manh and the delegation visited a number of food processing establishments, livestock and poultry meat production facilities belonging to Miratorg Group in Kursk and Bryansk provinces. They also visited several historic sites and laid wreaths at the Memorials for fallen Soviet soldiers who sacrificed their lives during World War Two, known in Russia as the Great Patriotic War (1941- 1945).