Vietnam is a dynamic, attractive market: US executives
Tuesday, 06:24, 17/05/2022
VOV.VN - Leaders of US economic and financial groups such as Kohlberg Kravis Roberts (KKR), VISA, Citigroup, and Standard & Poor's all hailed Vietnam's development potential during separate meetings with visiting Vietnamese Prime Minister Pham Minh Chinh.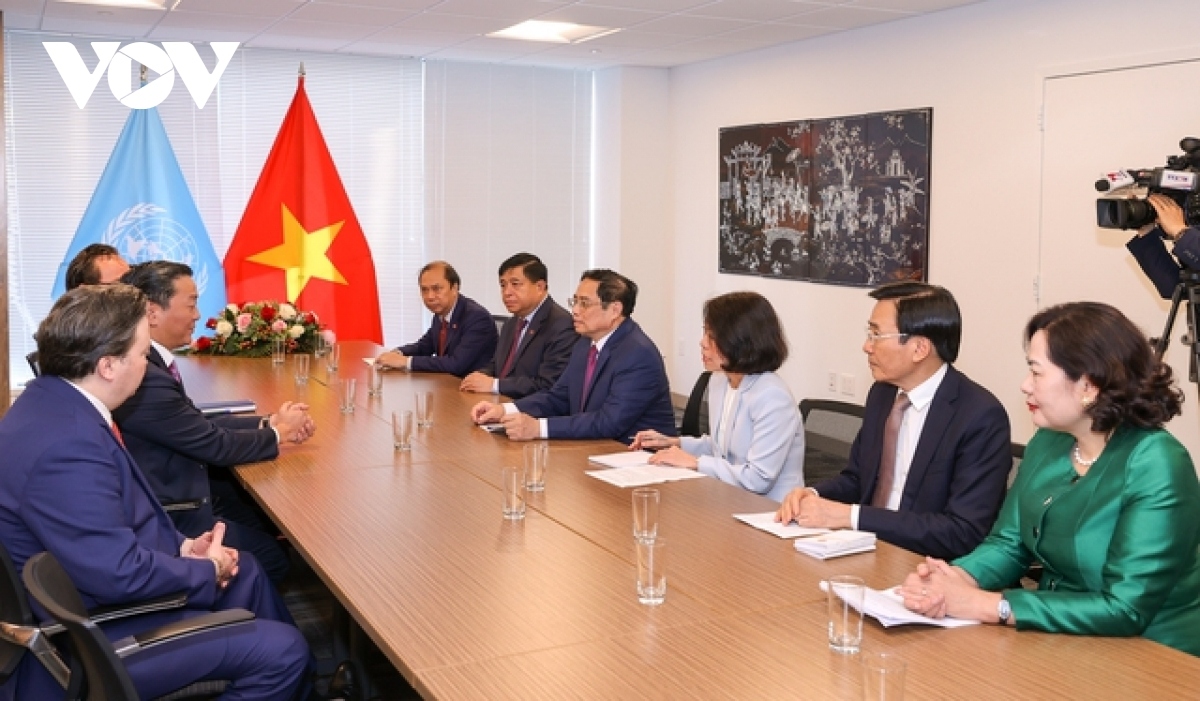 Joseph Bae, CEO of KKR - one of the largest private equity funds in the world that has invested more than US$1 billion in Vietnam, said that the fund wishes to expand its investment in the fields of real estate, infrastructure, digital transformation, food, consumer goods, and technology, among others in Vietnam.
Vietnam is a very attractive market for investors thanks to its incentive policies, important geographical location, and young and dynamic workforce, and it is certainly the destination for many value-added services in the region and the world, said Bae.
The KKR CEO shared experiences in promoting investment in energy infrastructure, digital transformation, and health infrastructure, noting the development of these fields requires strong private public partnership cooperation as well as a transparent and clear legal framework.
He said he hopes that the comprehensive partnership between the United and Vietnam will facilitate such investment activities.
For his part, PM Pham Minh Chinh welcomed KKR's investment expansion plan in Vietnam and said its investment areas are of Vietnam's priority. He suggested that KKR provide policy advice, technical assistance, and human resource training. to make bilateral cooperation more effective and substantive.
In another meeting, an executive of VISA expressed his impression of Vietnam's dynamic development, and at the same time congratulated Vietnam on hosting the 31st Southeast Asian Games (SEA Games), sending a very positive signal about its success in COVID-19 control.
He highly appreciated the government's plan to develop its non-cash payment services, with the growth rate from 8% in 2020 to 28% this year, and hoped the government would achieve the cashless payment target set by 2027.
VISA wishes to work closely with the Government of Vietnam to support growth and innovation goals in the financial sector, said the VISA executive, adding the firm desires to support digital transformation for small businesses, or in smart cities, smart mobility projects in Vietnam.
PM Pham Minh Chinh highly valued the presence of VISA in the Vietnamese market over the past 20 years, and expected the firm to further expand investment, explore new products, strengthen cooperation with commercial banks, and engage more digital transformation of the banking & financial sector in Vietnam.
The Prime Minister briefed the executive on Vietnam's approved project to develop non-cash payment services for 2021 - 2025 and asked VISA to share experiences and support this scheme.
During meetings with leaders of Citigroup and Standard & Poor's, Chinh assured that the government is aggressively handling violations in the capital market to develop it in a safe, transparent, and efficient manner.
He requested S&P to assist Vietnam in credit rating for its businesses.
Meanwhile, Chinh discussed with Citigroup leaders the possibility of promoting cooperation in non-cash payments, capital market development, climate change response, and energy transition.