Vietnam, Australia promote technology transfer, innovation cooperation
Thursday, 17:03, 16/06/2022
VOV.VN - Vietnam and Australia have plenty of opportunity to increase innovation cooperation, especially in technology transfer in the fields of clean energy, high-tech agriculture and digital transformation applications.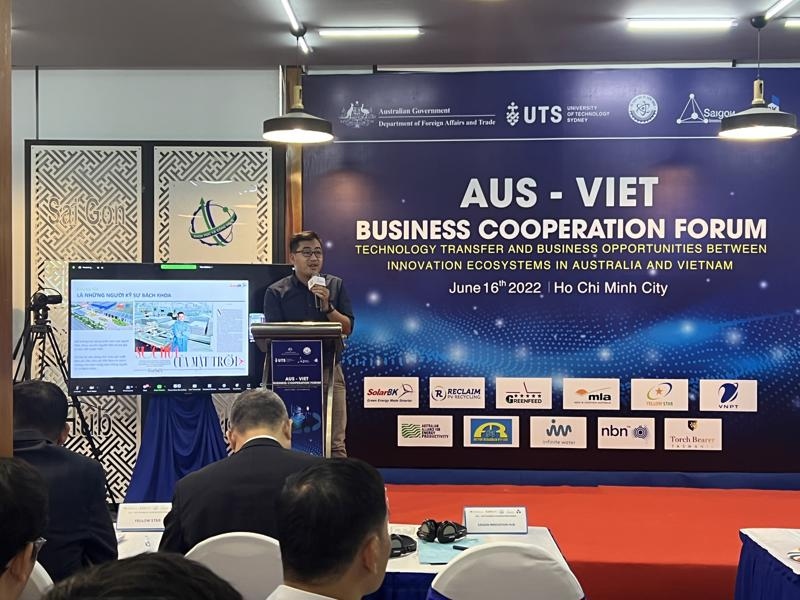 The view was shared by officials and experts attending the Australia-Vietnam business cooperation forum in Ho Chi Minh City on June 16.
Australia is one of the 20 leading foreign investors in Vietnam, with US$2.5 billion poured into 550 projects in 2021.
The Vietnam – Australia Enhanced Economic Engagement Strategy has been approved, aiming to double bilateral trade and investment, promote economic development, increase income, create jobs and opportunities for workers and businesses of both sides.
Australia is an important partner in supporting Vietnam's economic reform and international integration. However, there is still much room for cooperation between the two countries, especially in the fields of technology and innovation which is yet to be fully tapped.
Addressing the event, Australian Consul General in Ho Chi Minh City Sarah Hooper noted innovation is essential, especially when it comes to energy development, to help Vietnam achieve its Net Zero goal set out in COP26.
Australia is ready to invite Vietnamese businesses to explore new opportunities in clean, renewable energy, as well as to cooperate in technology transfer with Australian partners, she said.
Cooperation programmes will help strengthen the relationship between the two countries, including trade and investment cooperation, she added.
For his part, Deputy Minister of Science and Technology of Vietnam Bui The Duy said alongside business cooperation, the Vietnam - Australia innovation ecosystems have been deployed for more than four years in various areas to promote technology transfer related to the development of the digital economy, especially in the agricultural sector,
Such cooperation programmes should be formulated and developed regularly to boost bilateral economic cooperation, he stressed.
Experts shared the view that most of production businesses in Vietnam desire to learn and access new technologies in order to increase productivity and engage deeply in the global supply chain.
Huynh Kim Tuoc, director of Saigon Innovation Hub, said that the idea of innovation is not only for the startup community but also for small and medium sized enterprises.
"We are aware that science and technology play an important role in innovation. However, from science and technology to commercialization is a long way…. We do hope sci-tech research results should be materialized soon," he said.
At the forum, a number of solutions and technologies were introduced with regard to digital transformation and technology transfer for small and medium enterprises, application of digital transformation in search & rescue, climate change response, and health, profit-sharing business model in energy investment and smart agriculture.
The forum was jointly held by the Ministry of Science and Technology of Vietnam, Saigon Innovation Hub in collaboration with the Australian Department of Foreign Affairs and Trade, and University of Technology Sydney.