Value of footwear exports sees sharp drop amid pandemic
Sunday, 11:39, 10/10/2021
In September, the export value of footwear reduced 44% on-year to $700 million, according to the Vietnam Leather, Footwear and Handbag Association (LEFASO).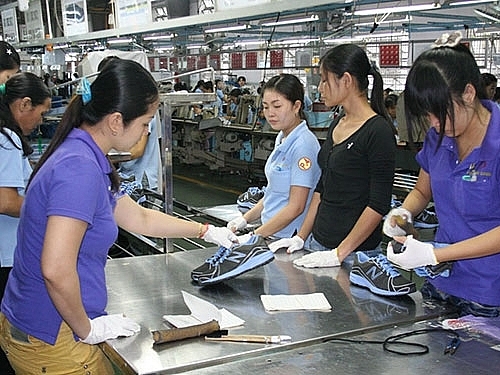 The total export turnover of the leather, footwear, and handbag sector in September reduced by 24% on-year, contributed by a 48% decrease in handbag exports.
However, thanks to the growth in the first half, the export turnover in the first nine months still reported positive growth. Accordingly, footwear exports reached US$13.3 billion (up 10% on-year) while handbags reached US$2.24 billion (down 3.7%).
The US is still the largest export destination of Vietnamese footwear and handbags, capturing 41% and 44%, respectively. The EU ranks second with footwear and handbags market share of 23% and 22%, respectively.
According to LEFASO, footwear and handbag exports in the past months have declined significantly due to the pandemic outbreak since May. Thereby, 80 per cent of factories in the south (especially in Ho Chi Minh City, Dong Nai, Binh Duong, Long An, Tien Giang), where a lot of footwear producers are based, had to shut down due to social distancing rules. These companies account for 70% of the total export turnover of the sector.
In Central and North Vietnam, footwear producers are running at 50%-80% capacity and are experiencing a shortage of human resources, as well as incurring more costs like the increase of materials, transport, testing COVID-19, camping at work.
Moreover, LEFASO also highlighted the lack of empty containers and international logistics and shipping costs increasing by 5-10 times since 2020. The high price of imported fuel and raw materials has greatly affected production, causing many difficulties for exporters.
The association said that they cannot enjoy the support policies of the government for enterprises hit by COVID-19, saying the conditions for accessing assistance are too tight and administrative procedures are too complicated.
Since the end of September, social distancing restrictions in numerous localities have been relaxed. However, it will take few months for them to recover operation in the new normal living with the coronavirus.
Like other labour-intensive sectors (textile and garment, seafood processing), footwear producers are struggling with the serious shortage of workers, because thousands of workers have left factories to return to their hometowns.
Therefore, LEFASO recommended businesses to save costs, further utilise government assistance, and call employees back to work while complying with regulations on disease safety under the guidance of the Ministry of Health, as well as take advantages of the free trade agreements (CPTPP and EVFTA) to enhance export volumes in the last months of the year.