Two scenarios outlined for economic growth
Saturday, 21:06, 02/10/2021
VOV.VN - The Ministry of Planning and Investment has mapped out two scenarios for economic, with the national economy growing at least 7.06% in the final quarter of the year to reach a growth rate of 3% for the whole year, and the quarterly growth set to hit 8.84% to fulfil the year target of 3.5%.
The figures were released by Deputy Minister Tran Quoc Phuong at a press conference following the Government's regular meeting in Hanoi on October 2.

The economic performance in the last quarter depends heavily on the implementation of the strategy on safe adaptation to the COVID-19 pandemic, Phuong emphasized.

Businesses should restore their operations, even reaching only 80% of their capacity, to boost the economic growth, Phuong said, voicing his hope that the quarterly target of 7% would be achievable.
Meanwhile, at an online meeting the same day between National Assembly delegates of Ho Chi Minh City and local business representatives, President Nguyen Xuan Phuc said that there would be specific polices to help businesses recover from the COVID-19 pandemic.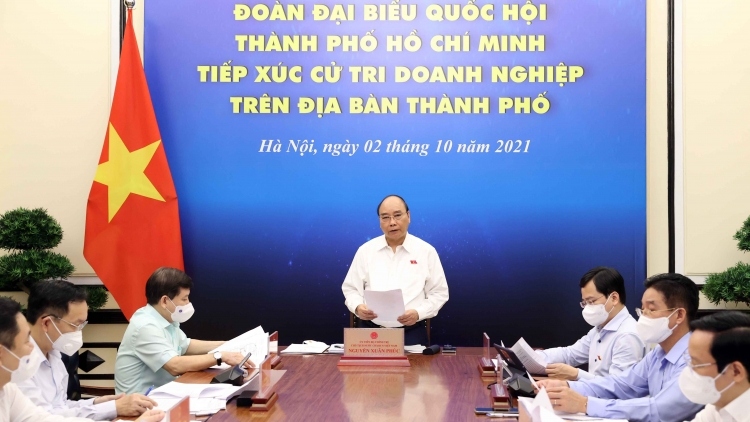 Ho Chi Minh City's economy in the third quarter dropped by 24.39%, and by 4.98% for the entire year to date. It's the lowest figure the southern metropolis has seen in the past decade, the Vietnamese State leader noted.
The municipal administration would gradually relax social distancing measures to help the city promote economic recovery, including the promulgation of financial support policies for local businesses.
Phuc also called for more tax reduction and relief policies to support businesses and to ensure sustainable incomes. He urged banks to continue to share the burden with the economy, especially by lowering interests for both businesses and people.