Trade exchange held to connect Japanese, Vietnamese firms
Thursday, 13:16, 23/12/2021
Vietnam Trade Promotion Agency (Vietrade) under the Ministry of Industry and Trade in collaboration with the Vietnam Trade Office in Japan organised a trade exchange to connect businesses of Vietnam and Japan in the field of food processing.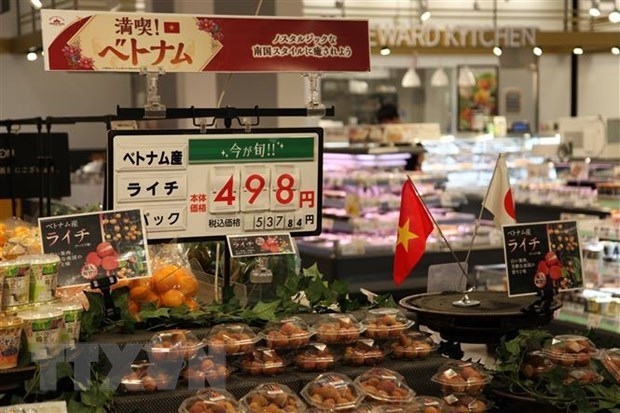 According to Le Hoang Tai, deputy head of Vietrade said given the complicated development of COVID-19, the exchange, held virtually, will create opportunities for businesses of the two countries to strengthen business cooperation and recovery in the new situation. They will learn more about each other's needs and capabilities, reaching an agreement on collaboration development between enterprises of the two countries, contributing to enhancing the Vietnam-Japan bilateral relationship.

Ta Duc Minh, Trade Consular at the Vietnamese Embassy in Japan said with a population of more than 125 million people, Japan is a large consumption market for agricultural, aquatic and food products.

Vietnam is considered to have strengths in the above-mentioned products and has good supply capacity for the Japanese market. Moreover, the number of people from Asian countries living and working in Japan is also up to 10 million, in which, the number of Vietnamese people increased rapidly with nearly 500,000 people in 2020.
Therefore, agricultural products imported from Vietnam have been warmly received by Japanese, Vietnamese and people of other Asian countries, he said.

It showed that there still have a lot of potential for Vietnamese agricultural products to export to Japan in the future, Minh said.

Addressing the event, Keisuke Kobayashi, deputy director-general at Japan External Trade Organisation (JETRO), said Vietnam and Japan have been each other's important trading partners for many years. The two countries have maintained a stable import-export relationship in the context of the COVID-19 pandemic.
The total import-export turnover between Vietnam and Japan reached US$38.4 billion over the first 11 months of this year, up 7% over the same period last year. Notably, Japanese investment capital into Vietnam increased by 54% against last year's figure.

The fact that the two countries are members of many free trade agreements including the Vietnam-Japan Economic Partnership Agreement (VJEPA), Comprehensive and Progressive Agreement for Trans-Pacific Partnership (CPTPP) and Regional Economic Partnership Agreement (RCEP), creates many opportunities to expand trade cooperation, especially participating in the regional and world's supply chain.

According to a representative of Kome Co.Ltd - a wholesaler and supplier of Vietnamese food in Japan, the Northeast country is facing the problem like other developed countries. That is population decline and ageing.

Due to the lack of labour force, Japanese manufacturers tend to look for factories in foreign countries like Vietnam to meet the domestic market. This is also an opportunity for Vietnamese agro-fishery enterprises to seek cooperation, the representative said.
However, he suggested that Vietnamese firms work closely with importers to have full information on additives or ingredients that are used to ensure eligibility before exporting, adding that there were differences between Vietnamese and Japanese markets in terms of standard.