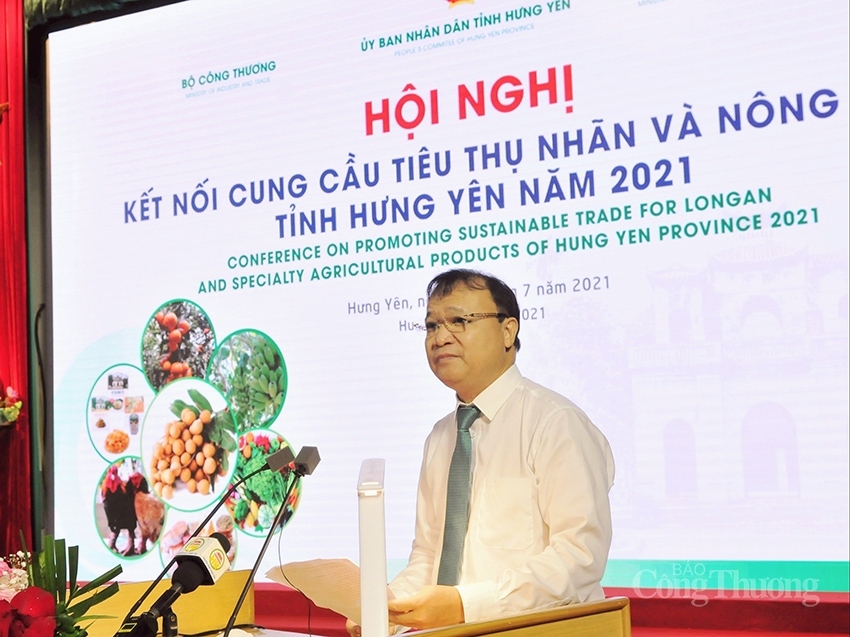 The event was connected to 15 domestic locations and roughly 60 others in 21 countries and territories worldwide.
Deputy Minister of Industry and Trade Do Thang Hai emphasised that despite the adverse impact caused by the COVID-19 pandemic, Hung Yen province has still managed to achieve a large output of agricultural products this year. Indeed, the Ministry of Industry and Trade (MoIT) has recently coordinated efforts with relevant ministries and localities to promote the consumption of agricultural products in both domestic and international markets.
The MoIT has worked closely alongside relevant units to expand both traditional and modern distribution channels, with a specific focus on the exploitation of digital platforms and the network of Vietnamese trade offices abroad to accelerate the consumption of local agricultural products.
Deputy Minister Hai also underlined the necessity of establishing and expanding the modern value chains from production to consumption stages, adding that the teleconference will greatly boost the country's agricultural products in making further inroads into foreign markets in a more sustainable manner.
A representative from the Chinese Embassy in Vietnam proposed that relevant units of both countries strive to further facilitate customs clearance procedures for agricultural products. This should be done whilst simultaneously encouraging reputable Chinese enterprises to invest in processing projects in Hung Yen and other localities to increase the value of agricultural products.
Bui Huy Son, counselor of Vietnamese Trade Office in the US, said Vietnam has been licensed to export six types of fresh fruit to the United States, and both governments are currently negotiating to enable more Vietnamese fresh fruit to enter the US market in the near future.
Son therefore advised domestic firms and importers to study appropriate payment methods to avoid risks, rent cold storage facilities to ensure a consistent quality of fresh fruit, and keep up to date with information about the US market, with a specific focus on new organic products, to maintain sustainable exports in this demanding market.
Nguyen Huu Nghia, secretary of the Provincial Party Committee, affirmed that the locality will  create the optimal conditions possible for both domestic and foreign businesses to sign contracts to boost the sale of longan and other agricultural products, especially in the US, along with in the European, Australian, and Asian markets in the future.