New economic stimulus package expected to spur stock market
Tuesday, 12:30, 19/10/2021
Investors have voiced their hopes that a new economic stimulus package would give a boost to the domestic stock market.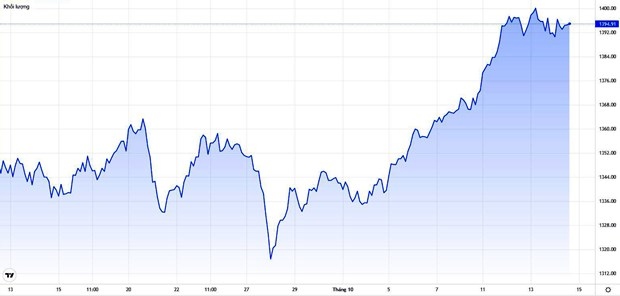 The vaccination rollout has allowed many cities and provinces nationwide to reopen, thus facilitating the country's economic recovery.

Notably, the planned new economic stimulus package is expected to give more momentum to the national economy.

Given this, more capital has flown into the stock market, especially bank stocks despite previous concerns over increases in bad debts and decreases in profits of banks.

The benchmark indices finished higher on October 18, but the VN-Index failed to cross over the key psychological level of 1,400 points level as the rising selling force weighed on the market in the late session.

On the Ho Chi Minh Stock Exchange (HoSE), the VN-Index increased 2.83 points, or 0.2%, to 1.395.53 points.

The market opened the morning session on a positive note, with bullish sentiment pushing the benchmark to 1,399.97 points. However, the rally was capped by profit-taking activities in the last minutes.

The market's breadth was negative as 193 stocks climbed and 245 declined, while the liquidity remained high. Accordingly, more than 795.9 million stocks were traded on the southern bourse, worth over VND23.65 trillion (US$836.8 million).

The index's uptrend was mainly driven by some large-cap stocks in energy, banking and manufacturing sectors. The 30 biggest stocks tracker VN30-Index posted a gain of 5.65 points, or 0.38%, to 1,510.49 points. Of which, sixteen stocks in the VN30 basket jumped, while twelve stocks fell and two stocks ended flat.

On the Hanoi Stock Exchange (HNX), the HNX-Index also posted a small gain after staying unchanged in the previous session. It was up 0.04 points, or 0.01%, to 384.88 points.

Experts said investors should focus on sectors that benefit from global changes for a long run.