Many factors support foreign capital flow
Wednesday, 13:07, 29/03/2023
Many factors are expected to draw cash flow back on the stock market, especially that from foreign investors.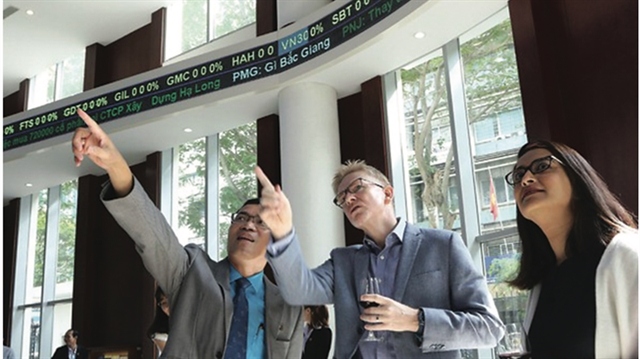 Although foreign investors only net bought VND400 billion in 5 trading sessions in the past week, a sharp decrease compared to over VND2.3 trillion in the previous week, analysts forecast that there is still much motivation for net buying from foreign investors in the future.
Foreign investors' net buying value on the Hanoi Stock Exchange (HNX) also decreased by 75.6% to VND41 billion, while their net selling value on UPCOM totalled VND27 billion, an increase of 66.8% compared to the previous week.
In general, foreign investors net bought VND340 billion on the matching channel and bought another VND60 billion via the put-through channel. Regarding the buying side, foreign investors focused on collecting Vinhomes (VHM) shares, Hoa Phat Group (HPG), Viet Capital Inc (VCI), PetroVietnam Ca Mau Fertiliser JSC (DCM), and PVPower (POW).
The information that is supposed to support foreign capital flow into the stock market this month is that Fubon Fund has approved the fifth additional capital raising with about US$160 million. Meanwhile, VanEck fund will change its reference index, raising it from 80% to 100% of Vietnamese stocks from March 17, meaning that it can buy about VND2.3 trillion in the market.
According to the founder of ART Investor Vu Duc Nam, ETFs including Fubon, VanEck and VNM funds are expected to disburse soon.
The State Bank of Vietnam's issuance of two decisions to reduce the operating interest rate from March 15 is also expected to direct the cash flow back into the market stock market, especially cash flow from foreign investors.
The corporate bond market also made initial improvements after the Government issued Decree No 08/2023/NĐ-CP dated March 5, 2023, to amend, supplement and suspend a number of articles in the Decrees regulating the private placement of corporate bonds for sale and transactions in the domestic market and the offer for sale of corporate bonds in the international market.
According to data from the Vietnam Bond Market Association (VBMA), as of March 17, 2023, there were six separate issuances of corporate bonds with a total issuance value of VND11.93 trillion.
In March 2022 alone, there were two corporate bond issuances to the public and 10 private corporate bond issuances with a total issuance value of VND3.62 trillion.
Matthew Smith, research director of Yuanta Securities Vietnam, said that the liquidity prospect of the financial system might be loosened and interest rates would cool down, which would benefit the financial assets.
Accordingly, Vietnam is maintaining a "golden population" structure. The middle class and urbanisation help increase domestic demand, FDI growth helps many export businesses develop. In particular, the price-to-earnings ratio (P/E) in 2023 is about 9-10x, the lowest in Asia, so the stock market is still very attractive to institutional investors and foreign investors.
According to this expert's forecast, Vietnam's stock market will recover and may enter the "bull market" as it has recovered 20% since the bottom of September last year. The VN-Index target is predicted to reach 1,300 points this year.
In the next trading week, the market will receive important macro information, such as GDP growth in the first quarter, and CPI in the first quarter. At the same time, some businesses may publish estimated business results. This will be a factor that can support investors' sentiment in the future.