LG Electronics begins building R&D centre in Da Nang
Saturday, 22:06, 31/10/2020
The Republic of Korea (RoK)'s LG Electronics and Trung Nam Land JSC inked an agreement on October 30 with a vision to transform Da Nang into the centre of technology and R&D in Vietnam, creating a mini 'Silicon Valley'.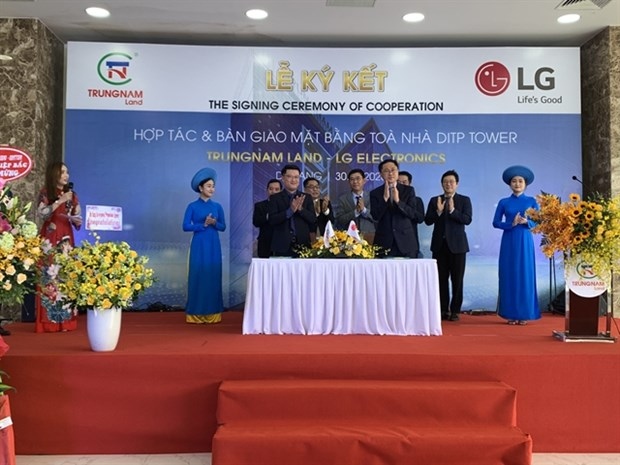 The agreement marks LG Electronics' commitment to building its second R&D centre in Vietnam after just one month of preparation.

The Korean giant previously signed a Memorandum of Understanding for the first R&D centre in the city with Da Nang's Investment Promotion Agency on October 6.

Following the agreement, LG Electronics will set up the centre at the Da Nang Information Technology Park Tower in Lien Chieu district, creating a space for software research and production to serve electronics manufacturing in Vietnam as well as attracting more subsidiaries of LG from the RoK to Da Nang and Vietnam.

LG Electronics said it would boost co-operation with universities and vocational colleges in Da Nang to train human resources and high-quality manpower for the centre.

Director of LG Vehicle Component Solution Development centre Jung Seung Min said the agreement was the first step in turning Da Nang into a strategic location for LG Electronics and boosting R&D after two decades of investment in Vietnam.

"I am so impressed with the development of Da Nang's leadership vision. It's the reason we decided to build our second R&D centre in Da Nang after the one we opened in Hanoi four years ago," Jung Seung Min said.

"We hope to build Da Nang into the biggest R&D centre for LG Electronics in Vietnam, and a centre of advanced technology," he said.

Nguyen Anh Huy from Trung Nam said the agreement marked the significant co-operation between a local business and Korean partner in turning Da Nang into an attractive destination for global high-tech industries.

He said Trung Nam and LG Electronics would join hands to realise the 'dream' of a 'Silicon Valley' in central Vietnam.

Last week, Trung Nam began construction of its first surface-mount technology (SMT) factory with a capacity of 6.2 million electronic products per year at the Da Nang Hi-tech Park.

Da Nang has been building the 341ha Da Nang IT Park and calling for businesses from Silicon Valley and the US to invest in healthcare, high-tech industries, Artificial Intelligence, education, real estate and automation.

Two Silicon Valley-based businesses – Meritronics AMT Inc and Ai20X Silicon Valley – have already agreed to develop the park.

According to the latest report from the city, Da Nang had drawn 868 foreign direct investment (FDI) projects with total registered capital of US$3.5 billion.

The RoK is one of the top five foreign investors in Da Nang with 232 projects worth US$390 million.

The Korea Trade and Investment Agency (KOTRA) also opened a representative office in Da Nang to promote investment and connections with Korean investors in 2018.

The Korean Consulate General is scheduled to inaugurate an office in Da Nang on November 6.