Japfa Comfeed Vietnam invests in animal husbandry project in Binh Phuoc
Thursday, 17:56, 24/12/2020
VOV.VN - Japfa Comfeed Vietnam Co., Ltd. (Japfa Vietnam) has received a license on to invest a sum of over US$40 million in a self-contained animal husbandry project worth a total of US$230 million.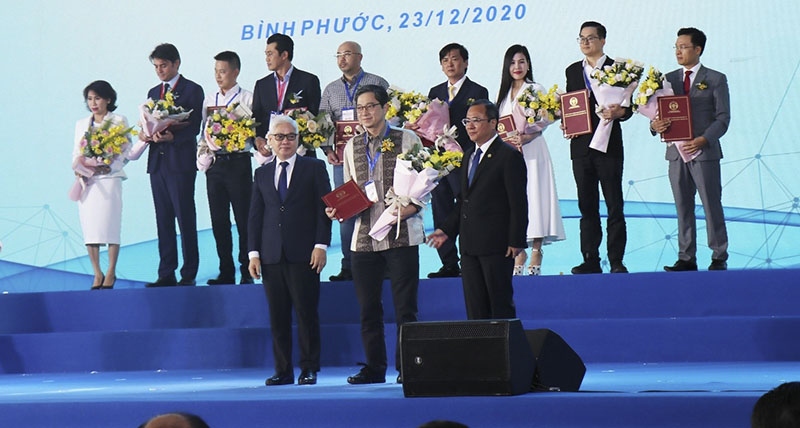 The event was held within the framework of the Investment Promotion Conference which was held recently in Binh Phuoc province.
Moving forward, Japfa Vietnam will invest in a self-contained livestock-poultry production chain which will involve breeders, feed, and cultivation, in addition to slaughtering and processing, throughout two periods from 2021 to 2023 and 2023 to 2025.
Once in operation, the chain is anticipated to create jobs for more than 1,000 local labourers throughout the province.
Featuring total investment capital of US$230 million (approximately VND5,300 billion), Japfa Vietnam has initiated  a plan to start construction on an animal feed production plant. This is in addition to a poultry slaughterhouse and a pig slaughterhouse during the first quarter of 2021 in the Minh Hung-Sikico Industrial Park.
Following this, Japfa Vietnam is poised to continue to develop an egg incubating plant, a commercial chicken farm, and a pig farm, with the site being situated in the High-Tech Park of Binh Phuoc province ahead in the fourth quarter of 2021.
Arif Widjaja, general director of Japfa Comfeed Vietnam, said the investment affirms Japfa's long-term business commitment and sustainable development in the Vietnamese market.
As one of the three strategic markets of Japfa Group in Asia, Widjaja believes that Vietnam will always remain the top priority in the business expansion strategy of Japfa Group.
Japfa Vietnam currently operates a farm system, with a capacity of more than 264,000 pigs and 660,000 chickens annually. Moving forward, the company will put two major animal husbandry projects into operation in Binh Phuoc,  with the plans set to receive a total investment of approximately VND670 billion.